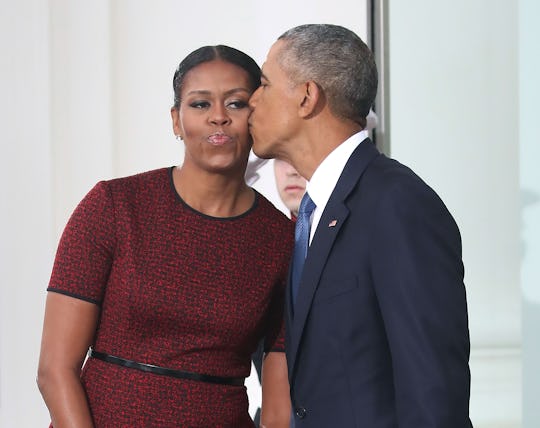 Mark Wilson/Getty Images News/Getty Images
Michelle Obama Revealed The Simple Secret To Her Marital Bliss
If you're going to take advice from someone, Michelle Obama is probably one of the best out there. But to follow the former first lady's latest bit of guidance, it may require a bit of home renovation. On Thursday, Michelle Obama revealed her secret to a successful marriage with President Barack Obama, and it's pretty simple... if you have the space for it.
The former first lady appeared on the TODAY show on Thursday and discussed empowering girls, #MeToo, and what has made her long marriage stick, according to Entertainment Tonight. "One of the keys to a successful marriage is separate bathrooms," she told TODAY. "When he enters my bathroom sometimes I'm like 'Why are you in here?' and he's like, 'I live here. Can I enjoy my bathroom too?'" This woman speaks to my heart.
After watching the Obamas together in the spotlight for years now, it's clear that they not only love each other, but they genuinely like and respect each other too. That's something Obama emphasized during a 2011 interview with Oprah, according to PopSugar.
"It has to be a true partnership. And you have to really, really like and respect the person that you're married to because it is a hard road. And that's what I tell young couples," she once told Oprah. "Don't expect it to be easy, melding two lives and trying to raise others. And doing it forever.[…] But in the end you can look him [Barack Obama] in the eye and say 'I like you'."
Obama appeared on TODAY on Thursday in support of the International Day of the Girl and the hosts got right into the topic of life as a former first lady. She told TODAY:
It's the small things. It's opening up my door, and walking out, and enjoying the weather, and sitting on my patio. […] It's going to my girl's games. […] There's nothing new that's going on, it's just that we're out in the real world.
They also discussed that sweet moment at John McCain's funeral when President Bush handed her a cough drop and why people latched onto that simple bipartisan kindness. "That's what people are hungry for," she said in the same interview. "Party doesn't separate us, color, gender, things kind of things don't separate us. It's the messages that we send."
But the trio spend the bulk of the interview talking about girls. "[Women and girls are] tired of be undervalued, they're tired of being disregarded. They're tired of their voices not being invested in and heard," Obama told TODAY. Hoda Kotb followed that up with a question about backlash from men about the #MeToo movement, to which Obama responded:
I mean there's been a status quo in terms of the way women have been treated, what their expectations have been in society and that is changing. There's gonna be a little upheaval. […] But I think it's up to the women out there to say "Sorry. Sorry that you feel uncomfortable but I'm now paving the way for the next generation."
During her visit Obama also announced a new program called The Global Girls Alliance, according to NBC news, which will address education for girls around the globe.
"Today, more than 98 million adolescent girls around the world are not in school," Obama wrote in an op-ed for CNN. The program will support leaders in communities who are assisting girls in getting an education, she went on to explain in the op-ed.
As Obama's interviews always seem to be, this one was charged with the message to remain full of hope. Hope for girls, hope for our political climate, and even, hope for separate bathrooms.