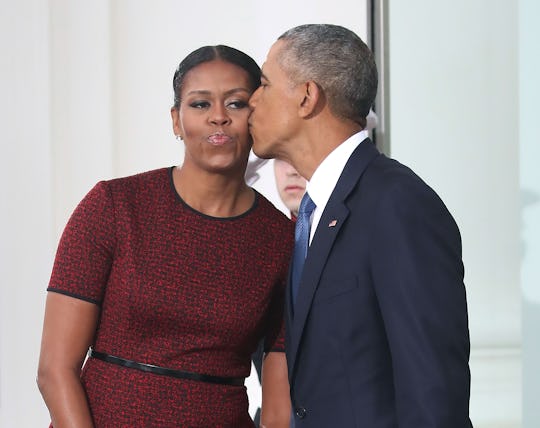 Mark Wilson/Getty Images News/Getty Images
See Michelle's Valentine's Day Post For Barack
President Barack Obama and his family have been on a much-deserved vacation since his term as POTUS came to an end. The inauguration of President Trump in January ushered in a new, post-White House life for the Obamas, and we're just blessed that they're keeping us posted on their adventures via social media. Speaking of, Michelle Obama's Valentine's Day post for Barack is everything, and makes me miss them a million times more.
Barack and Michelle Obama have been relationship goals since their early days in the White House. They married in 1992 after dating for three years. Barack had been a young lawyer, and Michelle (then Robinson) had been assigned to advise him. Soon after they were married and living in Michelle's home city of Chicago, Barack ran for a seat on the Senate, which he won, thus sealing the Obama's fate in politics. The couple have two daughters, Sasha and Malia, who were born in 2001 and 1998 respectively.
In an interview with the New York Times Magazine several years ago, the Obamas admitted that the political limelight — even in the early days, before the presidency — had posed challenges in their relationship. Like many parents, they struggled to strike a balance between family and career. Michelle was a little taken aback by the reality of it:
This was sort of the eye-opener to me, that marriage is hard. But going into it, no one ever tells you that. They just tell you, 'Do you love him?' 'What's the dress look like?'
To which Barack added:
There was no point where I was fearful for our marriage. There were points in time where I was fearful that Michelle just really didn't — that she would be unhappy.
Their relationship has now, after more than 25 years, survived the trials and tribulations of the White House. This Valentine's Day, the couple exchanged romantic messages on social media from their family vacation.
Michelle posted on both Instagram and Twitter, tagging the former POTUS:
And Barack's on Twitter, where he said simply:
The post-presidential life for the Obama's is looking pretty good: they'll be returning to live in D.C. after their vacation so that Sasha can finish high school there, and Barack and Michelle will be working on The Obama Foundation. The nonprofit organization will create groups nationwide, but particularly in Chicago, to foster "the next generation of citizens" to show up and be engaged in their communities.
If you're looking for your next gig, the Obama Foundation is looking for interns, so you could hang out with the former POTUS and FLOTUS and witness their cuteness in real life. Best job ever?