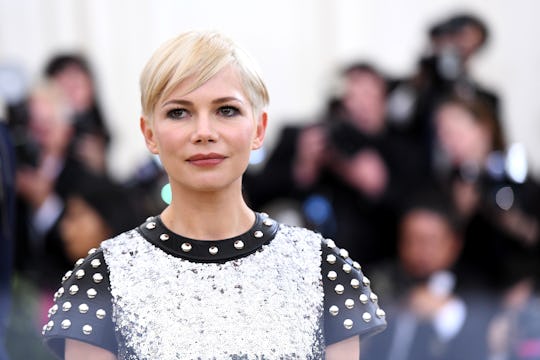 Noam Galai/Getty Images Entertainment/Getty Images
Heath Ledger's Dad Says He's 'Terribly Happy' About Michelle Williams' Marriage
I'm pretty sure that falling in love with Heath Ledger in 10 Things I Hate About You was more or less a millennial rite of passage, and I also think we can all safely agree that his Brokeback Mountain-era love story with co-star Michelle Williams was #relationshipgoals before that was even a thing. The two dated for three years, during which time they welcomed their daughter, Matilda, but split only a few months prior to his death in Jan. 2008. Williams has raised Matilda solo ever since, but on Thursday, Vanity Fair revealed that Michelle Williams got married in secret to musician Phil Elverum earlier this month, and honestly, their love story sounds like the sweetest happy ending. Perhaps the best part though? On Sunday, Ledger's father, Kim Ledger, told The Sydney Morning Herald that he and his family "are terribly happy" for the newlyweds, and his support is just the sweetest.
Given how private Williams is, it's not entirely surprising that she was able to keep the news of her marriage — or, really, of the relationship in general — under wraps. But in the magazine's September cover story, she opened up, explaining that she "never gave up on love," and, that, in her relationship with Elverum, she had finally found the kind of "radical acceptance" she felt she'd received from Heath.
Though Kim told The Sydney Morning Herald that he wasn't actually in attendance at Williams' wedding (Vanity Fair noted that the wedding was "witnessed by only a handful" of friends and family), Williams and Matilda — now 12 years old — have remained close with the Ledgers, and Kim told the outlet he expected to meet Elverum "soon."
It's certainly not the first time that Heath's family members have spoken publicly of their love for Williams: in April 2017, his sister, Kate Ledger, told People that Williams "provides such a wonderful environment for Matilda to grow up in," and and said that, though Matilda certainly resembles her father, "as she is growing older, she's got more of her beautiful mama in her too."
As a result of Williams' marriage, Matilda — who spent much of her life living quietly in upstate New York with just her mom — has inherited two new family members: in addition to a stepdad in Elverum, she now also has a 3-year-old stepsister, Agathe, Elverum's daughter from his marriage to illustrator and musician Geneviève Castrée, who died from pancreatic cancer in 2016. And though it certainly sounds special to be able to find a spouse who clearly understands what it's like to raise a child alone after the death of a partner, Williams told Vanity Fair that it's also about so much more than that. She said,
Obviously I've never once in my life talked about a relationship, but Phil isn't anyone else. And that's worth something. Ultimately the way he loves me is the way I want to live my life on the whole. I work to be free inside of the moment. I parent to let Matilda feel free to be herself, and I am finally loved by someone who makes me feel free.
Williams' new beginning definitely doesn't mean that keeping Heath's memory alive for Matilda has stopped being a priority though: the actress told Vanity Fair that she regularly reminds her daughter how much she loved him, and said, "I always say to Matilda, 'Your dad loved me before anybody thought I was talented, or pretty, or had nice clothes.'"
As much as it couldn't have possibly been easy for Williams to navigate life as a single mom to her daughter after the unexpected loss of her former partner — particularly since she also had to do it largely in the public eye — it certainly sounds like she's done a great job. And somehow, amid it all, Williams also maintained her career as a super-talented acting powerhouse amid it all. So while the news that she remarried in secret is definitely a surprise, it's also the happiest of news. And knowing that Heath's family is offering up their full love and support only makes it that much better.