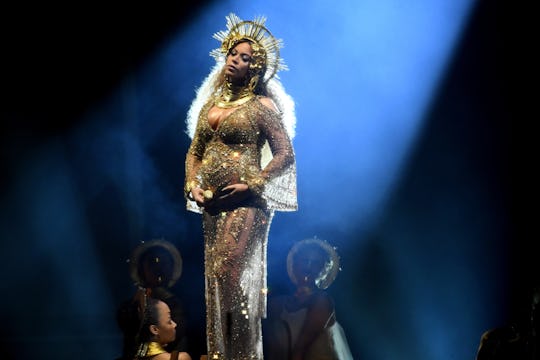 Kevork Djansezian/Getty Images Entertainment/Getty Images
Michelle Williams On Beyoncé's Inspiring Maternity Style
There is no denying that Beyoncé is an inspiration to us all. From the powerful messages she puts in her music to her political activism, she is an amazing role model for young girls and grown women, too — especially pregnant women. Even the singer's close friend and former Destiny's Child bandmate Michelle Williams thinks Beyoncé's pregnancy style is inspiring for other women, and you sort of have to agree; The singer knows how to slay us all with her bold maternity fashion choices, proving that personal style doesn't need to take a hit just because you're carrying another human (or, in Bey's case, two).
It's universally known that Beyoncé knows how to put together an outfit. All throughout her second pregnancy, Beyoncé has been sharing photos of her outfits on her Instagram, looking absolutely incredible in every single one. Beyoncé's maternity wear photos, which frequently feature beautiful gowns and lavish jewels, show that her growing pregnancy bump has done nothing to stop her enthusiasm for great fashion. And her outfits are more than just something to look at and envy — they can be an inspiration for all pregnant women hesitant to feel good about themselves as well. Williams expanded on this idea recently, telling People in an interview,
You know what? She's holding it down for so many other women who are with child and showing them, okay, still be as fierce as you feel and as you can because some women do have a hard time and don't feel as great all the time.
Williams continued, talking about how Beyoncé's mom, Tina Lawson, taught Beyoncé and the rest of Destiny's Child to dress their best:
When [Beyoncé] steps out, she's like "I've got to look as best as I can" because thats what Miss Tina instilled — at least wear some foundation and a red lip, at least. So she's always like, "Try to look as best as you can..."
It's true. Lawson, a former hairstylist from Texas, took it upon herself to sew and design the costumes for Destiny's Child, before and after they made it big in the music industry. Beyoncé must have taken a few style tips from her mama and will certainly pass them down to her children. And if Beyoncé's twins dress anything like Beyoncé's 5-year-old daughter Blue Ivy, then you know they'll be topping "Best Dressed" lists for the rest of their lives.
Everyone can be inspired by Beyoncé's confidence in wearing what they want and not letting pregnancy hold them back, even if it means finally feeling comfortable going out in a summery dress they might have previously felt they couldn't pull off while pregnant. All pregnant women deserve to look and feel as fierce as they are on the inside. Beyoncé's style is the perfect example of that.