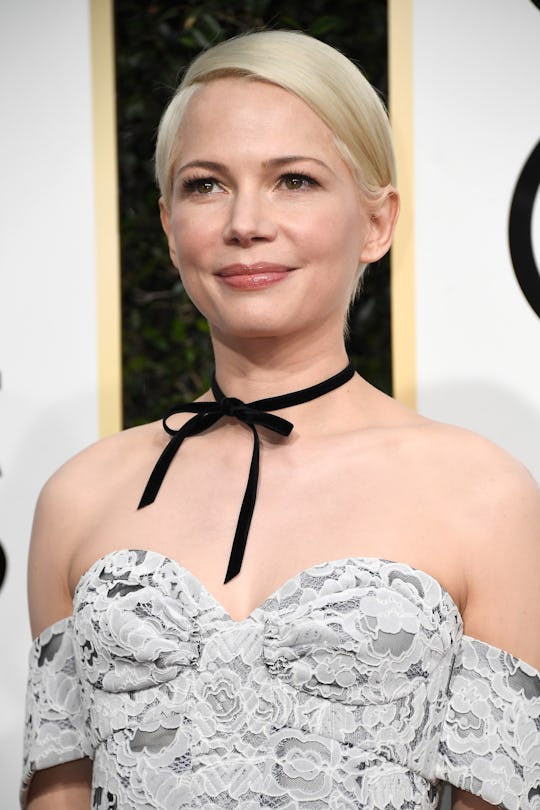 Frazer Harrison/Getty Images Entertainment/Getty Images
Michelle Williams Will Break Your Heart
Michelle Williams is a master at breaking your heart onscreen and onstage. As it turns out, she's a master at it in real life too. In a recent interview with WSJ Magazine, Michelle Williams talked about single parenthood, dating, and moving out of the home she once shared with late-ex Heath Ledger. Now would be a good time to go grab some tissues.
In addition to being a three-time Oscar-nominated actress (that number is only likely to increase this year after her turn in Manchester by the Sea) and a generally unstoppable force of talent and loveliness, Williams, 36, is the mother to 11-year-old Matilda. She dated Ledger, Matilda's father, for three years after they met filming Brokeback Mountain. In 2008, a few months after their break-up, Ledger died from an accidental overdose of prescription drugs. Ever since, although she's dated a bit, Williams has been a single mother. And as she told WSJ Magazine, it hasn't been easy to parent without a partner, in ways both large and small. Specifically, she said,
Sometimes it can feel alienating; at school functions, there's only two of us single mothers. Everyone else has a partner, so we buddy up.
Williams previously told Porter that, regarding raising Matilda without Ledger, "it just won't ever be right."
But despite the alienation of single parenthood, and the deep sadness of raising her daughter without a father, Williams is not about trying to fill some romantic void, telling WSJ Magazine in the same interview:
It's hard to romanticize romance when you're 36. When you've been a parent for 11 years and you've done it alone, you don't have romantic ideals, because you have a practical understanding that you can do it by yourself. The romantic idea of meeting your person and having a storybook family life that looks like the model you grew up with – that doesn't really exist for me... I've not gotten married because I have not had a person to whom I would — so I have not let my sense of conformity or duty override my instincts.
Although she and Ledger had broken up at the time of his death, she was still devastated by it. Ledger had been a proud and devoted father, saying before his death that family was "everything to me—the most important thing I do."
So when it came time for Williams to move out of the brownstone that she, Ledger, and Matilda had shared as a family, she said in the interview, she was "inconsolable, because I felt, 'How will he be able to find us?'"
Williams is a freaking inspiration. Sending the biggest virtual hug possible her way.