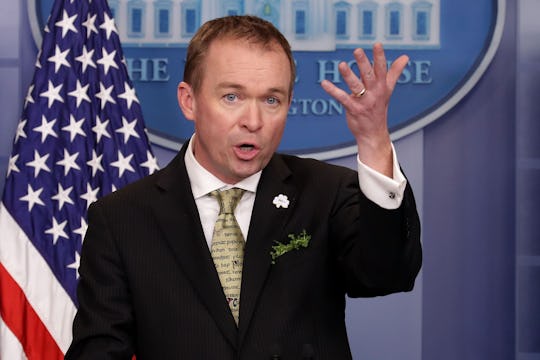 Chip Somodevilla/Getty Images News/Getty Images
Mick Mulvaney Says Maternity Care Is A "Local Problem"
Mick Mulvaney, the Office of Management and Budget director and Republican politician, went on CBS on Friday in a last ditch effort to try to sell Americans on the American Health Care Act, because that whole situation isn't exactly going very well for Republicans and President Donald Trump. During his appearance, Mulvaney said in a hypothetical situation, Americans who are unhappy with the choice of plans being offered in their state under "Trumpcare" — particularly if their state doesn't mandate coverage of something like maternity care, which isn't required by Trumpcare — should "figure out a way to change the state" they live in. That's a confusing statement at best, and a downright tone deaf point of view at its heart. At first glance, it appeared that Mulvaney was suggesting that women who want maternity coverage can go to another state to get it — because it's that easy, right?
Mulvaney did not immediately respond to Romper's request for additional comment.
The host of the show Mulvaney was appearing on, Alex Wagner, asked Mulvaney how the AHCA could potentially offer Americans a better "choice" than the current Affordable Care Act, also known as Obamacare, when it takes away requirements for insurers to cover things like prescription drugs, emergency room visits, and preventative services. In reply, Mulvaney said control over that sort of regulation would be sent back to the state level under the AHCA.
In a confusing exchange, according to the video, which CBS posted to YouTube, Mulvaney said, "If you live in a state that wants to mandate maternity coverage for everybody, including 60-year-old women, that's fine." Before he could continue, host Wagener questioned, "What if you live in a state that doesn't do that?"
"Then you can figure out a way to change the state that you live in," Mulvaney replied.
"So you should move?" Wagner asked.
"No, they can try to change their own state legislatures and their state laws," Mulvaney clarified.
Mulvaney argued that we shouldn't look to the federal government to fix our "local problems," but maternity care coverage isn't a "local problem." It's something women and families in every state need every single day.
And as it turns out, the AHCA isn't exactly a popular topic among women, who could be directly impacted by such a loss of coverage. According to the results of a Quinnipiac University poll released Thursday and reported on by Slate, only 13 percent of American women support the American Health Care Act. That's... an abysmally small number, though I can't help but wonder what those women like about the AHCA.
Mulvaney's statement seems to suggest he is unconcerned with how women in some states would deal with a loss of maternity coverage, but that shouldn't be a total surprise. He is, after all, a founding member of the Freedom Caucus, a group of representatives who are "among the most conservative of House Republicans."
Why does that matter? A certain photo of members of the group tweeted by Vice President Mike Pence that's gone viral might give people a hint.
Note that this is a group of politicians who have held out against voting for the AHCA, in particular because they want it to repeal more of the ACA's insurance mandates, according to the Washington Post. With things like women's health coverage on the line, it's also notable that there are no women in that photo (and seemingly no people of color either, but that's another story).
So is it really a shock that Mulvaney thinks people should accept possibly not having coverage for maternity care, emergency room visits, and other health care on the state level under the AHCA? That he seems to believe they should have to work harder to get the same benefits as those in other states, or just move if they are unable to make that sort of legislative change in their own state — if they're unable to fix that "local problem"?
The House is expected to vote Friday on the American Health Care Act, following a postponement yesterday. Contact your representative ASAP if you have concerns about their stance on the issue.