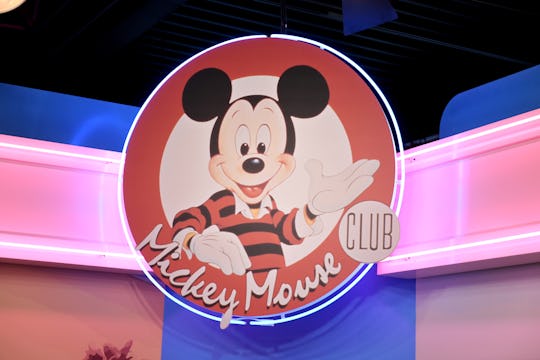 Craig Barritt/Getty Images Entertainment/Getty Images
This Free Trivia Game From Google Will Seriously Put Your Disney Knowledge To The Test
Mickey Mouse may be 90 years old this year, but kids of all ages still love the Disney superstar. I know first hand, because my DVR is filled nearly to capacity with my toddler's favorite episodes of Mickey Mouse Clubhouse and Mickey and the Roadster Racers. To celebrate Mickey's 90th year, Disney teamed up with Google to debut a fun new Disney trivia game called Mickey's Game Show.
If you've got a Google Home or Google Home Mini, all you've gotta do is say, "Hey Google, play Mickey's Game Show," and it's game on. If you're the kind of Disney super fan who can name all seven dwarfs without pausing to think, or can tell which one is Chip and which one is Dale, this game will be a blast for you and your kids. There are two different modes to make it easier or harder. You'll get multiple choice answers in classic mode, but you'll have to come up with the answer on your own in expert mode. Each game has five questions, and you or your child can play the game solo, or with up to four players.
There seems to be a pretty wide range of questions. Some are relatively simple, while others might be surprisingly hard unless you know every detail about the most famous Disney characters. Here's a question that totally stumped me: "What color is Pluto's collar: blue, green, or purple?" My daughter owns a stuffed animal Pluto, so I see him literally every single day, but I've never paid attention to his collar. I'd have a one in three chance of getting it right thanks to the multiple choices, but I'd have said blue when the answer is green. Other questions would be a slam dunk in my house though: "Minnie has a cute little cat. What is his name?" My daughter could tell you in a heartbeat that that's Figaro (or as she says, Figawo).
Mickey is the host of the show, but you can partner up with Minnie, Donald, Daisy, or Goofy as your teammate. If you get stuck on a question, they can help you out (and apparently I'd need the help, because I did not know that Chip is the one with the black nose and Dale is the one with the red nose). Disney has produced dozens of animated classics and seems to constantly revamp their classic characters with new movie and shows, so there's a massive amount of material to draw on for trivia.
If you don't have Google Home, you can still check out the game using your smart phone, and it's totally free — just download the Google Assistant app. It took me less than two minutes to download and set up the app and then start playing. I know my kid would get a huge kick out of hearing the voices of Mickey and friends coming out of my phone, so I'll definitely be playing Mickey's Game Show — and totally be prepared to lose to a 2-year-old.