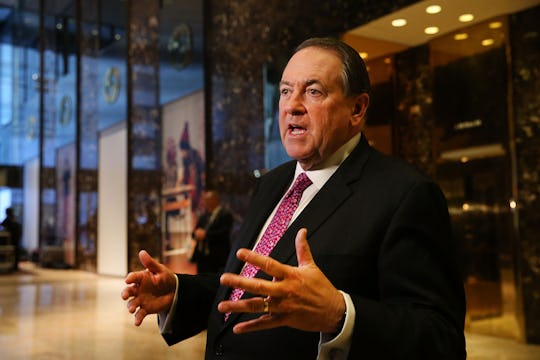 Spencer Platt/Getty Images News/Getty Images
The Best & Wurst Mike Huckabee Sausage Tweets
Notorious non-funny funny person Mike Huckabee stirred up a firestorm on Tuesday when he responded to Judge Neil Gorsuch's Senate confirmation hearing with a strange joke all his own. "Breaking News!" Huckabee wrote. "Jimmy Dean Sausage Co will be renamed GORSUCH SAUSAGE because he's grinding up some Democrat Senators into PURE PORK SAUSAGE!" Unsurprisingly, the joke, meant to poke fun at the left-leaning members of the Senate committee and to highlight Gorsuch's supposedly stellar Q&A session, didn't land as the former Arkansas governor planned, and within minutes, Twitter had pounced, delivering a round of perfect Mike Huckabee sausage tweets, all chock-full of as much dry sarcasm as Huckabee's metaphorical senator-sausage itself.
"Mike Huckabee has the sense of humor of someone who was trapped underwater for two minutes and then forced to tell jokes at gunpoint," one Daily Show writer joked. One Last Week Tonight writer quipped, "Mike Huckabee should be forced to perform a drop-in set at any comedy club in America and bomb live as badly as his Twitter jokes deserve."
To be fair, Gorsuch himself did manage to keep his head above water on Tuesday, despite a fierce round of questioning from Democratic senators (and fawning adulation from Texas' Adulator in Chief Ted Cruz), even attempting to insert a bit of humor at one point by dropping an awkward AF "algorithm" joke about eBay. (Spoiler: No one laughed.) But the showing certainly didn't merit the sort of lavish dad-joke that Huckabee bestowed on it later.
At least, not according to Twitter.
In case you forgot who Mike Huckabee is, or lost him when he and Rick Santorum melted into the debate stage during last year's primary election battle, the former Arkansas governor ran for president in 2008 and 2016, but was obviously unsuccessful. Don't worry, he got some rest in between those two White House bids by launching his own Fox News show, one on which he regaled viewers with his thoughts about Chick-Fil-A (for!) and Natalie Portman (against that strumpet!). He also spent a little time telling former Fox anchor Megyn Kelly that swearing was un-ladylike and trashy (making senator-sausage is, apparently, not). Shockingly, at no point during this period did the former governor take stand-up comedy lessons.
Of course, politicians are not expected to be funny (I assume the general public thinks they're all secretly like House of Cards' Frank Underwood in some way, shiny in public and murder-y behind closed doors). Even Obama had to rely on comedians and speechwriters to really hit one out of the park. But if you're going to make a joke about sausage on Twitter, Gov, at least know ahead of time that everyone will immediately dub you the absolute wurst.