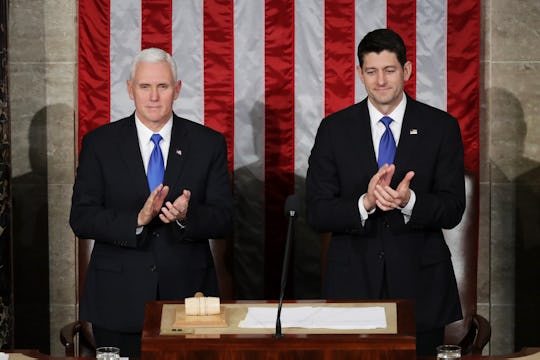 Chip Somodevilla/Getty Images News/Getty Images
Just Some Very Pure Mike Pence & Paul Ryan Tweets
On Tuesday, President Donald Trump gave his first joint address to Congress, and viewers couldn't help paying attention to Vice President Mike Pence and House Speaker Paul Ryan, who were seated directly behind the president. The two men were noticeably thrilled and also, noticeably matchy-matchy. Naturally, Twitter exploded with Mike Pence and Paul Ryan tweets in response.
To see Ryan sitting behind Trump, smiling, applauding, and standing in approval so frequently that multiple people on Twitter noted that he must be getting in some extra leg work (Paul Ryan loves his exercise!) was a strange culmination for many, after Ryan's ambivalence about Trump over the course of the 2016 election. Ryan was noticeably late in endorsing Trump as the Republican nominee, and he reportedly considered withdrawing his endorsement after the infamous recording leaked of Trump discussing his predilection for grabbing women without their permission, although Ryan did not end up going through with the endorsement-pull.
But all that ambivalence changed when Trump pulled out a surprise win in November, and delivered near total control to Republicans in government, giving Ryan far more power to enact his legislative agenda than he'd expected. Many on Twitter were quick to point out that, in contrast to earlier months, Ryan spent much of the joint address looking at Trump adoringly.
And then there was Pence, who is the second-in-command under a president who already has rumors of future impeachment swirling. Politico recently reported that,
Gambling houses all over the world are taking in action on whether Trump, inaugurated just last month, will resign or be impeached. And the odds aren't as long as you might think.
So it came as no surprise that plenty of people watching the speech were paying close attention to Pence. And while his reactions weren't as gif-able as Joe Biden's during President Barack Obama's big speeches, Pence still provided plenty of fodder for Twitter.
But perhaps best of all were the reactions to Pence and Ryan together. The two men looked particularly coordinated, wearing matching blue ties, and bringing to mind some other well-known matching duos. And while they mostly looked at Trump in total synchronized approval, there were a few times when Twitter viewers noticed their smiles wobbling, namely whenever Trump started to veer off of his teleprompter (which didn't happen as much in this speech as it has in the past).
It was certainly an eventful night. Thank goodness for Twitter to get us through it.