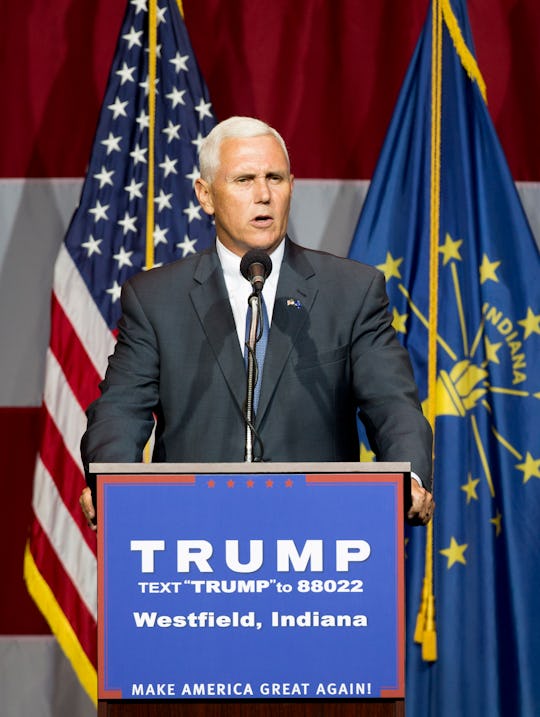 TASOS KATOPODIS/AFP/Getty Images
Mike Pence Quotes That Show What Kind Of Vice President He Might Be
Though Donald Trump is set to reveal his vice presidential choice on Friday, some with knowledge of his campaign have indicated that the decision has already been made. According to "a Republican with direct knowledge of the decision," Indiana Gov. Mike Pence is Trump's pick. The New York Times reports that a few of Trump's advisers revealed a forthcoming announcement with Pence to "national Republican officials." Pence has also dropped out of his governorship re-election race. An analysis of Mike Pence quotes helps reveal what kind of vice president he might be.
UPDATE: Trump confirmed Pence as his vice presidential running mate in a tweet Friday morning and said he would host a news conference on Saturday.
Pence has been regarded as one of the "safer choices" from Trump's VP short list due to the assertion that he appears to be Trump's opposite. Trump and Pence differ in terms of policy, especially regarding the Iraq War, healthcare, and the extent of free trade. Pence's evangelical, conservative beliefs, while differing from Trump's, may help sell Trump to Christian voters. Additionally, Pence's 16 years holding public office may garner support from the skeptics who question Trump's lack of political experience. Even reported fellow frontrunner Newt Gingrich conceded that Pence's differences from Trump make him an asset, specifically Pence's age at 20 years Trump's junior. Reviewing some well-known Pence quotes helps to understand where the governor is coming from and how those views might shape the Republican ticket.
Pence is "Rush Limbaugh on decaf"
Pence hosted a conservative, radio talk-show himself in the 1990s. The "decaf" label aims to distance himself from Limbaugh's erraticism.
Pence "was tea party before it was cool."
Notorious for holding far-right views, Pence's rigidity caused him to be chided by both "GOP leaders and even the president," reported The Los Angeles Times. Initially, Pence supported Ted Cruz, a Tea Party favorite, in the GOP primaries.
"I'm a conservative ... but I'm not angry about it."
While Pence served in Congress, this functioned as a sort of mantra of his. His perceived level-headedness runs contrary to Trump's hotheaded reputation.
More significant than what he has said though, might be what he has refused to say. Pence's campaign manager Marc Lotter stated firmly that Pence is "'not talking about' social issues," likely due to the controversy surrounding Indiana's 2015 discriminatory LBGT legislation. When asked about his support of the Religious Freedom Restoration Act, Pence refused to answer whether or the act would make it OK to "refuse service to gays and lesbians." On the episode of ABC's This Week, Pence defended religious freedom, asking "is tolerance a two-way street or not?"
Whereas Pence's level-headedness characterizes him as Trump's opposite, his exclusivity of marginalized groups paints the two in a similar light. As we await the official announcement, Pence is likely gearing up for a bumpy ride to November.