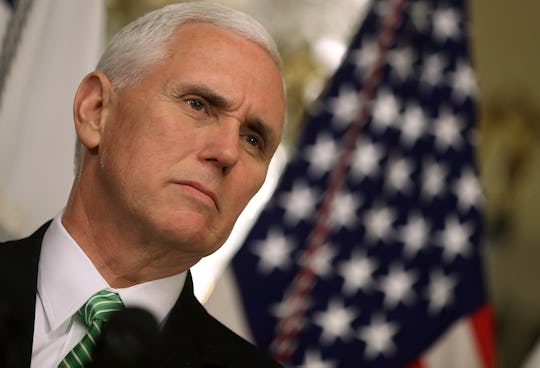 Justin Sullivan/Getty Images News/Getty Images
Mike Pence Reportedly Won't Dine Alone With Women
On Wednesday, a profile of Vice President Mike Pence's wife, and second lady of the United States, Karen Pence ran in The Washington Post. The profile attempted to bring Karen Pence — who stayed mostly in the shadows throughout the election and subsequent presidency of Donald Trump – into the limelight. But it was actually an anecdote about her husband that lit up the internet: Mike Pence reportedly won't dine alone with women, and here's why that's a major problem.
The profile of Karen Pence, penned by Ashley Parker at the Post, was intended to give the public a better look at the vice president's wife. Karen, 60, has stayed mostly out of the spotlight since her husband became Trump's running mate, but sources told the Post that Mike Pence isn't without her influence. She just chooses to wield it subtly. Brian Howey, publisher of Howey Politics Indiana, told the Post:
As governor, Mike Pence had a very tight inner circle, and Karen Pence was very much a part of that. I would characterize her as the silent, omnipresent partner. You knew she was there, you knew there was some considerable influence she wielded, but, boy, she was not public about it.
The Pences, both from Indiana, met at church. Mike had seen Karen playing guitar during mass and asked her out, according to Cosmopolitan. They dated for about nine months before he proposed, and have been married for 32 years. In the Post's profile, the bond between the two is further characterized by an anecdote involving Mike Pence's red phone — not the "panic phone" of the Oval Office, but rather, one that's a direct line to his wife. The antique was a gift from her many years ago, and she is the only person who has the number for it, according to Vanity Fair.
The nature of the Pences' relationship has come under fire before: back in January, a profile of Mike Pence in Rolling Stone claimed he referred to Karen Pence as "mother" — which the internet found generally unnerving. The recent profile of Karen Pence from the Post, however, seemed to lend credence to Rolling Stone's piece in that it gave additional anecdotes about the "rules" of the Pence marriage. For one, that Mike Pence never dines alone with a woman other than his wife, and that he never attends a function with alcohol unless his wife is present. These were apparently admittances Mike Pence himself made to The Hill over a decade ago, and while it's not clear who initiated the "rules," the internet still found them highly problematic. The White House hasn't responded to Romper's request for comment regarding the rule or criticisms that say it makes the vice president less trustworthy.
Many have taken them to imply that Mike Pence can't be trusted around women (or alcohol) unless his wife is present to supervise — a prospect made no more reassuring simply because he may have some self-awareness about it. While the practice has been attributed to the Pences' strong Christian faith, that still implies that the possibility of being unfaithful is the primary motivation. Healthy, functional relationships are built upon a foundation of mutual trust — which would generally preclude a partner feeling as though they need to monitor or police in some way the actions of their spouse, according to Good Therapy.
Of course, putting the nuances of the Pences' marriage into the broader context of Trump's personal and public politics — particularly as they pertain to women — is only more troubling. Trump's track record with women is fraught with allegations of sexual assault and harassment going back decades, according to The Telegraph. (All of which Trump has denied, often by saying he doesn't know the accusers. Trump's representatives haven't responded to Romper's requests for comment.) If the arrangement between the Pences is indeed what the internet has taken it for, they no doubt will be quite at home in Trump's White House.
That, however, sets a disturbing precedent: to justify such behaviors, whether they are overt or not, contributes to an ever-encroaching narrative in American culture that excuses the poor attitudes and behaviors of men toward women — often through infantilization. The rhetoric of "boys will be boys" and "locker room talk" — or the idea that men need their female partners around to "rein" them in or to help control them if they're drinking — has continued to lay a very troubling and seedy groundwork for rape culture.
In the case of Mike and Karen Pence, if those "hard and fast rules" for their relationship stem from a place of mistrust, then it paints a picture of a woman who has been made to feel responsible for her husband's behavior. (She may not feel this way, and the White House hasn't responded to Romper's request for comment regarding these common criticisms.)
A woman should not be made to feel as though she has to chaperone her partner, or that her presence is required to ensure he's faithful. Narratives like that — even if they are tongue-in-cheek and meant to be jokes — promote the idea that a woman is at fault when men misbehave. Whether it be blaming a woman when her husband cheats ("How did she not know? Why couldn't she keep him happy?") or saying that a woman who was raped was "asking for it," relationships with "rules" based in anything other than mutual respect are problematic. And, even if Pence feels it's most respectful to only dine around other women if his wife is present, would a female politician be able to do the same? As Jill Filipovic argued above, most women would not be able to build a career where they refused to dine alone with a man unless their husbands were present. The list of criticisms lobbed against Mike Pence is long, and indicative of double standards that women not only face — but that make women morally responsible for the actions of men.