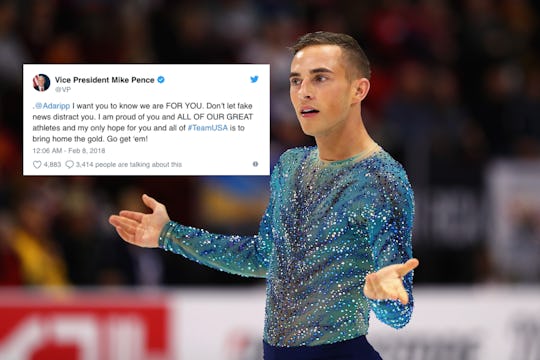 Tim Bradbury/Getty Images Sport/Getty Images
Mike Pence Tweets Support To Olympian Adam Rippon, & The Internet Is Calling BS
Vice President Mike Pence may have forgotten some of the hostile and harmful actions that he's taken against the LGBT community over the years, but the internet certainly hasn't. On Wednesday, the vice president went online to voice support for U.S. Olympic figure skater Adam Rippon after a series of media reports chronicling Pence's concerns over Rippon's very public criticism of the vice president. But, Mike Pence's tweet to Adam Rippon backfired spectacularly as Twitter users reminded the vice president exactly why the openly gay athlete might not be interested in striking up a friendship online or in real life.
The drama between Pence and Rippon started back in January when the skater commented on the vice president being chosen to lead the U.S. delegation during the Olympic opening ceremony, according to USA Today. Rippon offered a sharp criticism, according to that outlet: "You mean Mike Pence, the same Mike Pence that funded gay conversion therapy? I'm not buying it." According to a Huffington Post report, Rippon later refused a meeting with Pence (presumably to hear the vice president's reasoning for being against basic rights and protections for the LGBT community). That cold shoulder apparently prompted Pence to issue a statement of support online, instead.
"I want you to know we are FOR YOU," Pence tweeted late Wednesday evening. "Don't let fake news distract you. I am proud of you and ALL OF OUR GREAT athletes and my only hope for you and all of #TeamUSA is to bring home the gold. Go get 'em!"
But given the vice president's history of anti-LGBT positions and policies, it was unclear to many on Twitter what being "for" Rippon could actually mean. In 2006, Pence argued in Congress that marriage equality would lead to "societal collapse"; he also voted against a law that would have banned discrimination against people based on sexual orientation; and he opposed the Obama-era directive allowing students to use the bathroom of the gender they identify with.
For all of those reasons, people online repeatedly called the vice president out as a hypocrite.
This tweet does not make you a friend or ally to the LGBTQ+ community. Until you change, @Adaripp and the rest of the LGBTQ+ have every right to keep you at arms length. We simply don't trust you.
You are for him? Really? You voted against ENDA, the Employment Non-Discrimination Act that bans discrimination based on sexual orientation! So you want it to be okay that someone can be fired, or can't be married BUT you are for him??? Please!
Other replies showed just how astounded people were by Pence's tweet:
And because the internet is full of receipts, others just offered up Pence's own words as a rebuttal.
For his part, Rippon — who is literally hours away from representing his country in the biggest competition of his career — recently told USA Today that he's just focused on training for his events. "I'm not trying to pick a fight with the vice president of the United States," he told the outlet before adding that he might consider a meeting later on:
If I had the chance to meet him afterwards, after I'm finished competing, there might be a possibility to have an open conversation. He seems more mild-mannered than Donald Trump. … But I don't think the current administration represents the values that I was taught growing up. Mike Pence doesn't stand for anything that I really believe in.
USA Today also reported that the 28-year-old figure skater, who is also the first openly gay U.S. man to qualify for the Winter Olympics, said that he would not go to the White House for the post-Olympic celebration to be hosted by President Donald Trump.
Check out Romper's new video series, Romper's Doula Diaries:
Watch full episodes of Romper's Doula Diaries on Facebook Watch.