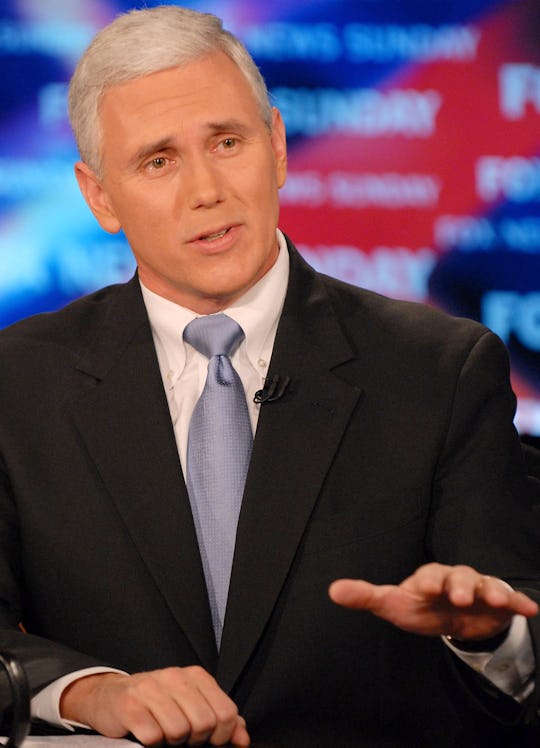 Handout/Getty Images News/Getty Images
Mike Pence's HIV Scandal Must Not Be Forgotten
On Thursday, Donald Trump, the presumptive Republican nominee for president, announced that he'd chosen Indiana Gov. Mike Pence for his running mate. The one who wants to force women to hold a funeral for medical waste after an abortion. The one who caused the gay pizza fervor of 2015. Those are two of the most notable bullet items on his resume, but there's another one, maybe not as well known, that needs to be discussed: the Indiana HIV epidemic that caused Mike Pence to declare a public health emergency, which some say he had a hand in causing.
UPDATE: Trump confirmed Pence as his vice presidential running mate in a tweet Friday morning and said he would host a news conference on Saturday.
The first thing to know about Mike Pence is that he hates abortion. I mean, really hates it. As in, a good gift for him would be a lapel pin that read, "Ask me how I feel about abortion." While many right-wing politicians have been screeching about defunding Planned Parenthood over the last year due to those hoax videos, Pence wanted to shut them down before it was cool. In 2011, Politico detailed Pence's "one-man crusade to deny all federal funding" to the organization. Reminder: Title X does not provide federal funding for abortions, and abortion makes up only three percent of the services that Planned Parenthood provides. PP's main function is STI and STD testing and treatment. Pence's response: "If Planned Parenthood wants to be involved in providing counseling services and HIV testing, they ought not be in the business of providing abortions."
In 2013, the only Planned Parenthood in Indiana's rural Scott County was forced to close due to lack of funding. The women of Scott County must now travel 50 miles to visit a gynecologist, according to the Chicago Tribune. The closure also left the county without an HIV testing center, and by June 2015, 150 of Austin, Indiana's 4,300 residents were infected with HIV. That's almost 3.5 percent of the population. For comparison, the overall HIV infection rate in the United States is less that 0.4 percent.
Austin's only physician, Dr. William Cooke, saw the epidemic coming a mile away. "We've been asking for help for a long time," he told MSNBC in 2015. "We identified long ago there was an undercurrent here that was very unhealthy."
Pence finally called the Centers for Disease Control to assist Cooke with the outbreak in March of that year. As of April 2016, 190 cases of HIV have been diagnosed in Austin, reported the Indy Star. The Scottsburg Planned Parenthood, which never performed abortions, remains permanently closed.