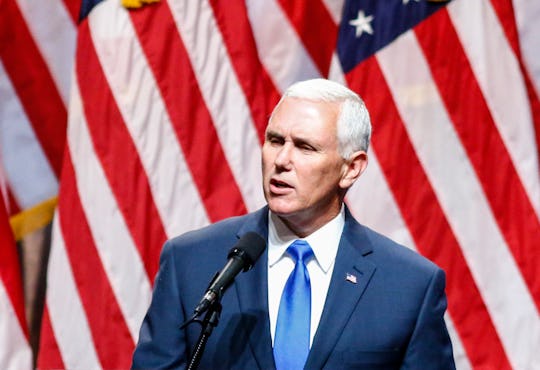 KENA BETANCUR/AFP/Getty Images
Mike Pence's NRA Rating Is Solid, & A Bit Terrifying
The NRA Political Victory Fund (or NRA-PVF) is the National Rifle Association's political action committee. Every year, the NRA-PVF sends a questionnaire to all Congressional candidates and then uses their answers, along with a candidates voting records and public statements on gun control and/or gun violence, to rank and potentially endorse political candidates — and this ranking runs on a scale from "A" to "F." But why does the NRA rank candidates at all? Well, the hope is that having the endorsement of the NRA will help voters more easily identify candidates whose believes align with their own, meaning someone who truly supports unrestricted access to weapons, which the NRA believes is what the Second Amendment grants. But what is Indiana Gov. Mike Pence's NRA rating? What is the Vice Presidential candidates stance on the Second Amendment?
The good news for gun supporters and lobbyists is that his rating is solid. In fact, according to The New York Daily News, Pence has the highest NRA rating — an "A" — thanks to his consistent pro-gun voting record.
In 2003, Pence voted to pass a bill which would "prohibit liability lawsuits from being brought against gun manufacturers and dealers based on the criminal misuse of firearms," according to On The Issues. In 2009, Pence helped to establish a national cross-state standard for carrying a concealed weapon, and in 2011 Pence voted to loosen regulations on interstate gun purchases.
What's more, in his 2016 State of the State address, Pence said "Indiana will always stand by the right to keep and bear arms," according to On The Issues.
During a Real Clear Politics interview with Chris Wallace, Pence explained why he believes in the Second Amendment, and why he passed legislation in Indiana that would allow licensed gun carriers to keep guns in their vehicles in school parking lots:
I have strongly supported the right to keep and bear arms. I truly believe that firearms in the hands of law abiding citizen's makes our families and our communities more safe, not less safe. And the bill that we just signed here in Indiana really was a common sense reform. We actually have parents that had a permit to conceal and carry a weapon that we're finding themselves guilty of a felony just by dropping their kids off to school. So we just — we made a modest change, a common sense change in Indiana law. And I strongly supported it.
And whether you agree with Pence does not matter. What does matter is that, if Pence is elected this fall, if Pence and Trump are welcomed into the White House in January 2017, all American's can — and should — expect Pence to continue to support the Second Amendment and virtually unrestricted access to guns.