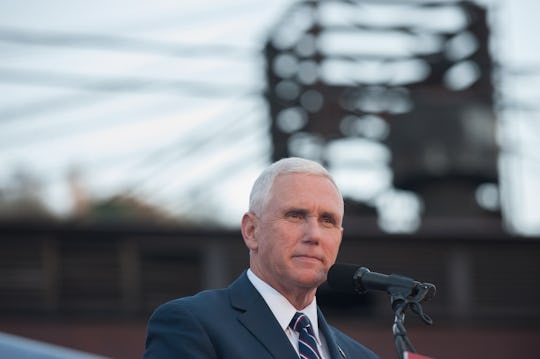 Jeff Swensen/Getty Images News/Getty Images
Mike Pence's Reaction To Donald Trump's Second Debate Was Supportive On The Outside
The second presidential debate between Donald Trump and Hillary Clinton was one of the most contentious and bruising debates in American history. Over the course of it, Trump even openly disagreed with his running mate, Mike Pence. Still, Mike Pence's reaction to Donald Trump's second debate was outwardly positive, even as rumors swirled that he wanted to leave the ticket.
Only a few minutes after the debate's conclusion, Pence tweeted his congratulations to Trump from his official account, saying that he was "proud to stand with you as we #MAGA" (or "Make America Great Again"). It was a strong show of support even though in the days before the debate, Pence had released a statement about the tape revealing his running mate's lewd remarks about women, saying,
As a husband and father, I was offended by the words and actions described by Donald Trump in the eleven-year-old video released yesterday. I do not condone his remarks and cannot defend them. I am grateful that he has expressed remorse and apologized to the American people. We pray for his family and look forward to the opportunity he has to show what is in his heart when he goes before the nation tomorrow night.
According to the post-debate tweet, Pence liked what was in Trump's heart enough to publicly reaffirm his support of him.
But did he like when Trump broke with his view on Syria when asked about it during the debate? When the moderators brought up Pence's views on American military strikes in Syria, Trump said, "He and I haven't spoken and we don't agree." Though Pence has not publicly commented on that, Twitter users certainly have.
Talk show host Jerry Springer even suggested that Pence and Trump come on his notorious show to "talk things out."
After a disastrous couple of weeks for the Trump campaign, many Republicans have been publicly or not so publicly wishing that Pence could top the ticket instead of Trump. And unsubstantiated reports and rumors are flying that Pence is "livid" about the current goings-on in the Trump campaign. (Pence has not publicly confirmed these reports, and the campaign did not immediately respond to Romper's request for comment.)
Still, while the Twitter chatter about Pence quitting is interesting, and in many ways unprecedented (certainly nothing similar is happening on the Hillary Clinton/Tim Kaine ticket), it's important to remember that all outward signs indicate Pence's continued support of his running mate.
Those curious about what might really be going through Pence's head right now will just have to hope that he's caught expressing his true feelings on a hot mic, like his running mate.