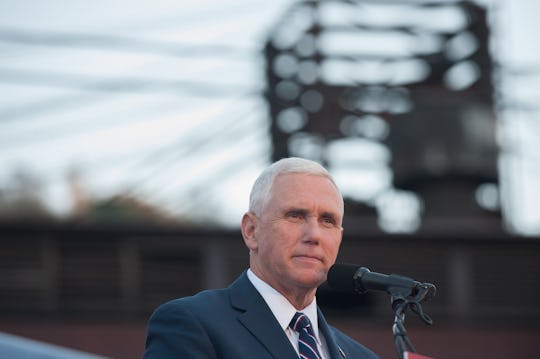 Jeff Swensen/Getty Images News/Getty Images
Mike Pence's Response To An 11-Year-Old's Body Image Question Was Totally Off Base
During an interview, the Republican vice presidential candidate gave a surprising answer to a poignant comment from a young girl. Mike Pence's response to an 11-year-old's body image question was totally off base, and Twitter is definitely noticing.
Pence did an interview for Columbus, Ohio's WBNS-TV Thursday; according to Business Insider, one question in particular seemed to catch him off guard. Anchor Scott Light told Pence that a Girl Scout troop recently visited the station, and one 11-year-old shared her misgivings about Republican presidential nominee Donald Trump's rhetoric highlighted in campaign commercials: "When I hear those words and look in the mirror, they make me feel bad about myself." Light's question for Pence, The Huffington Post reported, was "What would you say to that little girl?"
Rather than directly addressing the child's concern, Pence gave an answer that seemed to touch on everything but Trump's questionable words about women:
Well, I would say to any one of my kids and any children in this country that Donald Trump and I are committed to a safer and more prosperous future for their family. The weak and feckless foreign policy that Hillary Clinton promises to continue has literally caused wider areas of the world to spin apart, the rise of terrorist threats that have inspired violence here at home, and we've seen an erosion of law and order in our streets. And we've seen opportunities and jobs evaporate and even leave Ohio and leave this country. I would say to any of our kids that if Donald Trump and I have the chance to serve in the White House, that we're going to work every day for a stronger, safer and more prosperous America.
Viewers noticed Pence dodge the question. After Pence's evasion, Twitter users called attention to the peculiar response:
Pence's response called to mind one of Trump's answers from the second presidential debate held Sunday at Washington University in St. Louis. Just two days earlier, the Washington Post debuted footage from a 2005 Access Hollywood taping that caught Trump detailing his behavior toward women on a hot mic, according to CNN Money. Trump could be heard talking about pursuing a married woman, and he described kissing women without their consent. He said, "And when you're a star, they let you do it. You can do anything... Grab them by the p*ssy. You can do anything." On Sunday, according to a transcript of the second presidential debate published by The New York Times, moderator Anderson Cooper asked Trump directly about the video: "That is sexual assault. You bragged that you have sexually assaulted women. Do you understand that?" Trump attempted to deny Cooper's premise while shifting the attention to military strategy:
No, I didn't say that at all. I don't think you understood what was — this was locker room talk. I'm not proud of it. I apologize to my family. I apologize to the American people. Certainly I'm not proud of it. But this is locker room talk.... Yes, I'm very embarrassed by it. I hate it. But it's locker room talk, and it's one of those things. I will knock the hell out of ISIS. We're going to defeat ISIS. ISIS happened a number of years ago in a vacuum that was left because of bad judgment. And I will tell you, I will take care of ISIS.
Though Pence and Trump may attempt to divert attention from Trump's words about women, the Access Hollywood video release did prompt Pence to criticize his running mate, NBC News reported. Pence's written statement distanced him from Trump's remarks while still leaving the candidate an opportunity for redemption prior to the second presidential debate:
As a husband and father, I was offended by the words and actions described by Donald Trump in the eleven-year-old video released yesterday. I do not condone his remarks and cannot defend them. I am grateful that he has expressed remorse and apologized to the American people. We pray for his family and look forward to the opportunity he has to show what is in his heart when he goes before the nation tomorrow night.
It seemed over the weekend that Pence firmly took a stand against Trump's descriptions of how he'd treated women, but the language revealed on the Access Hollywood tape is only the most recent in a string of remarks that likely prompted undermined the Girl Scout's self-esteem. Pence's decision to avoid a direct response to the 11-year-old girl mentioned in the WBNS-TV interview makes it easier to question whether he is actually willing to challenge the most potentially damaging elements of his running mate's rhetoric.