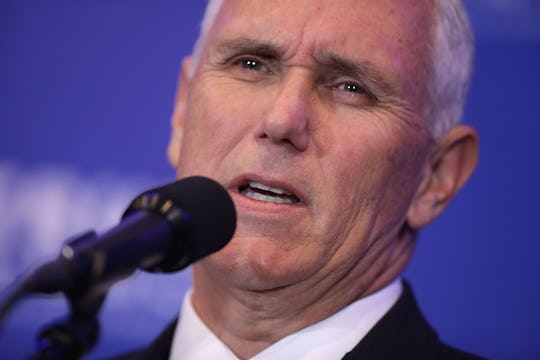 Chip Somodevilla/Getty Images News/Getty Images
Mike Pence's Response To Donald Trump's Presidential Election Victory Is Telling
Back in early July, Indiana Gov. Mike Pence was so unpopular in his home state that his chances of reelection were unclear. Then, an opportunity came his way. Former Miss Universe co-owner and Republican presidential nominee Donald Trump asked Pence if he wanted to become the Republican Party's vice presidential nominee. Pence, of course, accepted. Tonight, four months later, Mike Pence's response to president elect Donald Trump's election victory shows that thing will, for better or worse, change.
Prior to Trump's victory speech, Pence took to the stage, saying:
This is a historic night. The American people have spoken and the American people have elected their new champion. America has elected a new president and it is almost hard for me to express the honor that I and my family feel that we will have the privilege to serve as the vice president of the United States of America. I come to this moment deeply humbled, grateful to god for his amazing grace. Grateful to my family. My wonderful wife Karen, our son Michael and his fiancé Sarah, our daughter Audrey, far away, and our daughter Charlotte. I could not be here with out them. And I'm deeply grateful to the American people for placing their confidence in this team and giving us this opportunity to serve. I'm most thankful to our president elect whose great vision will make America great again. It is my great honor and distinct privilege to introduce to you, Donald Trump.
Pence's months as nominee were certainly eventful. Widely considered to be the sane, "establishment" counterpart to Trump, Pence's tasks were often bizarre. In the days leading up to his vice presidential debate with Virginia Sen. Tim Kaine, for example, many commentators opined that Pence's primary job was to make Donald Trump seem palatable to their own supporters. John Feehery, a Republican strategist, told The New York Times that Pence needed to convince voters that "Trump's a good guy and he's not crazy."
In short, the bar was pretty low, and Pence certainly delivered: Most believed that he won that debate, if narrowly and by employing outright, fact-checkable lies that steered the conversation in his direction, rather than toward Trump's quizzical stances. Interestingly, it was also during that debate that Pence seemed to pull away from Trump on a key policy issue, stating that the United States should establish safe zones in the Syrian conflict.
Whatever their disagreements, Pence continued to toe the party line until Election Day. In terms of election results, on Sunday, Pence told Fox News' Chris Wallace that "a clear [election] outcome, obviously both sides will accept. But I think both campaigns have also been very clear that, you know, in the event of disputed results, they reserve all legal rights and remedies."