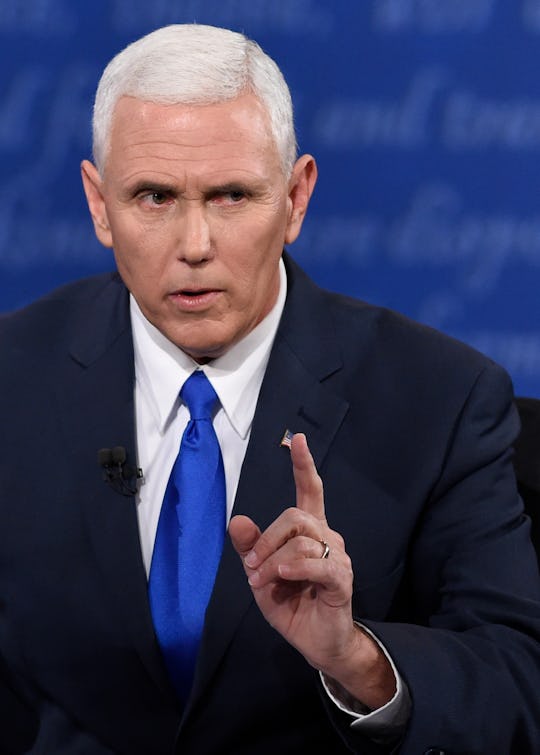 SAUL LOEB/AFP/Getty Images
Mike Pence's 'Spend A Little Time On My Knees' Comment Unfortunately Set Twitter On Fire
At the first and only vice presidential debate on Tuesday night, moderator Elaine Quijano from CBS News asked Democrat Tim Kaine and Republican Mike Pence to describe how their respective faiths played a role in their lives and dictated their politics. And while many viewers might have thought the candidates' views on more controversial topics like abortion would get the most attention, it was Pence's "spend a little time on my knees" quote that, unfortunately, generated the most chatter on social media.
"For me, my faith informs my life," Pence said of his Christian faith on Tuesday night. "I try to spend a little bit of time on my knees every day. But it all, for me, begins with cherishing the dignity, the worth, the value of every human life." Of course, the quote was taken a bit out of context, as posts on Twitter swiftly indicated.
One Twitter user garishly wrote, "I bet you do when you have to deal with Trump." Another tweeted, "Come on, Pence, you know what the Internet is, you can't just hand them that." Others noted that it was the best quote of the night and that gay Twitter users were going to have a field day crafting jokes and memes.
ICYMI: When it comes to LGBTQ rights, Pence has faced criticism throughout his political career for backing controversial legislation. Last year, the Indiana governor signed a revised version of a "religious freedom" law that would have allowed businesses to discriminate against lesbian, gay, bisexual and transgender individuals, citing his religious beliefs.
According to The Washington Post, "Pence has been described for years as a 'devout evangelical,' although he describes himself as 'a Christian, a conservative and a Republican, in that order.'"
All of this only served to compound the perfect storm that was his "spend a little time on my knees" comment Tuesday night.
Even if Tuesday's debate didn't garner as much excitement beforehand or attract as many viewers at the much-anticipated presidential debates, the reaction that Pence's comment garnered on social media proved that voters are in fact paying close attention — especially when there's a joke to be made.
Pence's personal connection to his faith should've helped him land a touching one-liner against his rival on Tuesday night. Unfortunately, Twitter is, well — Twitter.