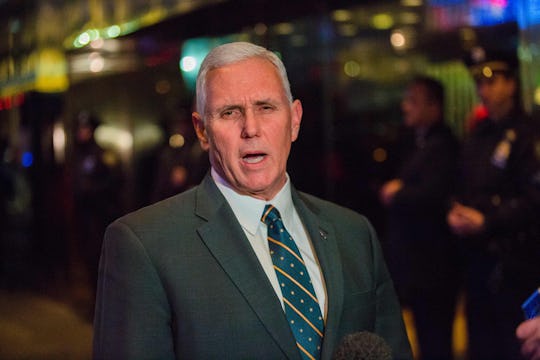 EDUARDO MUNOZ ALVAREZ/AFP/Getty Images
Mike Pence's Vaccine Voting Record Is Bleak
With president-elect Donald Trump working to dismantle the Affordable Care Act as we speak, parents have every right to be concerned about what health care will look like for their children. But lest we forget, Trump's vice president-elect, Mike Pence, will also play an important role in determining what health care will look like under Trump's administration. It's important to know where Pence stands on a multitude of issues, and one place to start is with vaccinations. Mike Pence's vaccination voting records show that, though he claims to be for vaccinations, his actions speak louder than his words.
There are no federal laws mandating vaccines, but every state and D.C. does require vaccinations for rubella, measles, and polio for children entering a daycare or school setting. Many states offer religious and medical exemptions to these requirements.
Keeping things in the hands of the states may be for the best, since Trump doesn't seem to have a great understanding about vaccinations. Trump has made comments that show he believes that vaccinations cause autism, which has been debunked by doctors and medical professionals. At the Republican presidential debate in 2015, Trump said he's against vaccinations, and gave an example of a baby he knew who became autistic after a vaccination:
You take this little beautiful baby and you pump . . . We had so many instances, people that work for me, just the other day, 2 years old, a beautiful child, went to have the vaccine and came back and a week later got a tremendous fever, got very, very sick, now is autistic.
Trump made these comments despite the fact that studies have shown that vaccines do not cause an increased risk for autism.
Surprisingly, Mike Pence might be more onboard with vaccinations than Trump. In 2015, Pence said in a statement that he supported vaccinations for measles and other illnesses required by law in his state, Politico reported.
Indiana law requires all children be protected from vaccine-preventable diseases like the measles by getting vaccinated. Vaccines protect all out children from illnesses, and our administration strongly urges Hoosier families to have their children vaccinated.
But not when it comes to the HPV vaccine, which protects against certain types of cancers.
It's no surprise that Pence would be against a vaccine that is aimed primarily at girls and young women. As governor of Indiana, Pence has consistently voted to defund Planned Parenthood, which limited women's access to birth control, STD screenings, and abortions.
Pence lobbied against a bill to set a goal to get 80 percent of 13- to 15-year-olds (both boys and girls) vaccinated against HPV by 2020. Pence explained that the high goal was a step toward requiring vaccinations. Pence told Indy Star:
By establishing a goal of 80 percent immunization that that may set Indiana on the path toward mandate, [that] created a concern for many people. I think it is a decision that's best left to parents in consultation with their doctors,
So far, according to data from the National Immunization Survey, only 30 percent of girls in Indiana received all three doses of the HPV vaccine in 2015 — a decrease from the year before — thanks in part to Pence's efforts.
Telling parents they must vaccinate their teen daughter against HPV is one thing. But actively lobbying against a law to protect people's health is another.