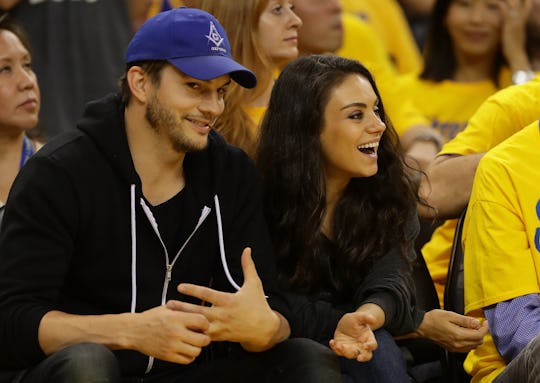 Ezra Shaw/Getty Images Entertainment/Getty Images
Mila Kunis & Ashton Kutcher Are Expecting Their Second Child
The Kunis-Kutcher family is expanding! People reported on Wednesday that actors Mila Kunis and Ashton Kutcher were expecting their second child together, and fans of cute babies everywhere rejoiced. The news, which was confirmed by Kunis' rep, comes just a year and a half after the birth of the couple's first child, a daughter named Wyatt Isabelle Kutcher. The couple have been married since 2015.
Just the other day, Kunis and Kutcher were spotted grabbing some ice cream with 18-month-old Wyatt during a fun family outing. Wyatt, who's very obviously a fashion maven in the making, was clad in tiny strappy sandals and a yellow-tee that read, "Daddy's Little Princess" — completely fitting, because while the couple don't often share pics of their daughter, she's no doubt the apple of their eyes... even if she is a little bit wild.
"She's crazy," Kunis said during a CinemaCon panel to promote her new film Bad Moms back in April, according to ABC News. "Kids are crazy. I don't really understand how they're are all alive." She continued,
[Motherhood] is awesome. I feel like that's all [My Bad Moms castmates and I] ever talk about when we get together. We talk about kids. We're all very lucky though. We all have little ones. It's great.
With a second baby on the way, things are bound to get even wilder — but Kunis is likely taking it all in stride, especially when it comes to pregnancy. In an interview with Marie Claire back in July 2014, prior to the birth of her first child, Kunis gushed that she actually enjoyed being pregnant, even going so far as to point out a few obvious perks. "They're amazing!" Kunis joked of her breasts. "They've tripled in size. I was a 34A; now I'm a 36C. I'm so excited! I'm telling everyone I know, 'Go ahead, touch them!'"
On a more serious note, she added, pregnancy itself was actually a relatively sunny time for her. "Without being an a--hole," she said, "I have to say, I love being pregnant."
All humor aside, Kunis has been upfront about how becoming a parent has changed both her and husband Kutcher over the years, telling Entertainment Tonight back in May,
I reprioritized my life, in all honesty. I traveled through all my 20s and I was very selfish... In a good way, not in a way I regret. And I think having a kid made me realize how incredibly selfless I want to be. It does change the way you think and look at life. I would never trade it for the world… But I know that when we decided to have a kid, we were ready to no longer be selfish. Or at least start the process, because innately, as humans, we are really selfish people.
[After having a child], you learn how to be a great partner and great wife and a great woman and be yourself and still be responsible for you know, a living child. It's definitely a learning process.
With the impending birth of their second child somewhere on the horizon, Kunis and Kutcher may still be learning — but based on Kunis' own words, and the adorable pics of the little family floating around the internet these days, it seems they're both happily ahead of the curve.