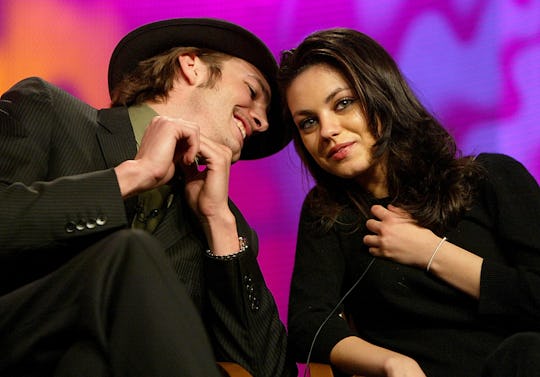 Kevin Winter/Getty Images Entertainment/Getty Images
Mila Kunis Explains Why She & Ashton Kutcher Don't Give Their Kids Christmas Gifts
Mila Kunis and Ashton Kutcher are the kind of parents who could hand their kids the world on a silver platter — but you better believe that's not the parenting style the two That '70s Show alums have in mind for their two kids. In fact, Kunis and Kutcher aren't giving their kids Christmas gifts this year, and that's a tradition that they've been wanting to instate ever since their youngest — 3-year-old Wyatt — was born.
"So far, our tradition is no presents for the kids," Kunis told Entertainment Tonight recently, while promoting her new movie A Bad Moms Christmas. She explained:
Last year when we celebrated Christmas, Wyatt was two and it was too much. We didn't give her anything — it was the grandparents. The kid no longer appreciates the one gift. They don't even know what they're expecting; they're just expecting stuff.
This year, Kutcher and Kunis told their parents to either pick a single gift for their kids or to make a charitable donation to a worthy organization. "Having kids, we're building up our own little versions of tradition," Kunis told Entertainment Tonight. "That's our new tradition."
Sounds like a worthy tradition — albeit one the kids might dislike once they start hearing about other kids' holiday gifts later on.
The family's new "no gifts" policy might just be part of Kunis and Kutcher's attempt to raise good little humans, another effort she spoke about with Entertainment Tonight. "We're not gonna raise a—holes," Kunis said. "There's enough a—holes in this world! We don't need to contribute."
Kunis and her husband of two years are parents to 3-year-old Wyatt Isabelle and 10-month-old Dmitri Portwood, and this isn't the first time the mom of two has spoken out about raising humble kids. Speaking to The Kyle and Jackie O Show last year, Kunis said that she and Kutcher had asked themselves how to avoid raising entitled kids even before Kunis' first pregnancy.
"It's a matter of teaching them from a very early age that, you know, 'Mommy and Daddy may have a dollar, but you're poor,'" Kunis told The Kyle and Jackie O Show, according to People. "'You are very poor, you have nothing. Mommy and Daddy have a bank account.'"
Kunis continued:
It's so important because we both came from pretty solid poverty backgrounds and grew up very poor and are very much self-made and are very aware of what a dollar is worth. Nothing's been handed to us.
In the same vein, Kunis and Kutcher have mostly kept their kids out of the limelight. Neither posts pictures of their children, and Kutcher has asked the media to keep photos of his children off of their websites and out of their magazines in the past.
"l continue to kindly ask, Please don't post/publish photos of our kids. They haven't chosen life in the public eye," Kutcher tweeted in July, after photos of the young family surfaced online.
"Yes we took them to a public place (we like sharing life with our kids) no that doesn't mean we are ok with their photos being published," he added in an additional tweet.
Something tells me that, despite their status as wealthy movie stars, Kutcher and Kunis are already on their way to raising pretty decent kids — with zero spoiling and a healthy understanding that their parents' career success (and corresponding bank accounts) are not the norm.
Here's to Kunis and Kutcher for coming up with their own Christmas traditions and helping to keep their kids' best interests in mind, even when it means asking grandparents to reign it in with the Christmas gifts.
Watch Romper's new video series, Romper's Doula Diaries:
Check out the entire Romper's Doula Diaries series and other videos on Facebook and the Bustle app across Apple TV, Roku, and Amazon Fire TV.