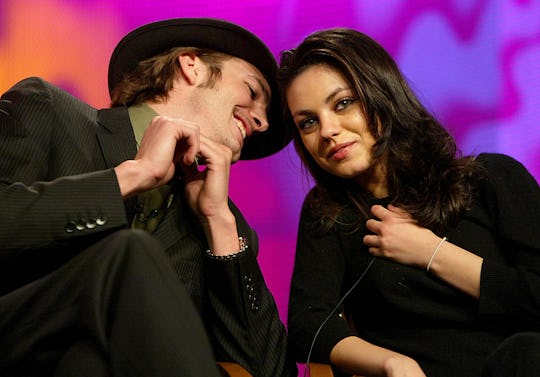 Kevin Winter/Getty Images Entertainment/Getty Images
Mila Kunis & Ashton Kutcher Baby Names That The Couple Should Seriously Consider
I will absolutely never get over the fact that Jackie and Kelso are actually married IRL and are expecting their second child together. And since the world basically revolves around what fans want (joke), it's only fair that Mila Kunis and Ashton Kutcher pick baby names that totally please us. The couple already has a 17-month old daugher named Isabella Wyatt and just this weekend announced that she was going to be a big sister. It's a match made in ridiculous sitcom heaven.
Kunis has recently been promoting her new movie Bad Moms and told reporters that the hardest thing about being a mom is worrying about what other people are thinking of your choices (because that is definitely the hardest part of anything, let alone being responsible for a tiny human).
"You only are a mommy in this way for such a brief amount of time anyway that you don't wanna look back and be like, 'Why did I care about that stupid nonsense,'" she said. Now, I don't want to be a judging Judy but they missed some great naming opportunities with Wyatt. Sure, it's a great gender neutral name that is sure to go over well with other Hollywood babies, but they could have done, well, better. Here are some suggestions for baby numero dos.
Fez
I don't like to admit that I am a closet That '70s Show fan, but I totally am. Fez's unrequited love for Kunis' character Jackie was one of the hardest things to watch for all of those years (and the most ridiculous). They should give him a little nod with their second kid. Wyatt and Fez? How cute.
Apple
There's already a pretty famous kid named Apple in the Hollywood playground, but Kunis and Kutcher could really make the unique name go viral. Or just go all in on the endorsement and call the kid Jimmy Beam.
Griffin
Like Wyatt, it's a little old-school, and if it sounds to masculine in case they have a girl they can just add Meg and give a little hat tip to the geeky cartoon sister Kunis has been voicing for over 15 years.
Earp
Just trying to go with a theme here for the two tots.
Willis
I'm a sucker for alliteration. Plus, Kutcher spent years hanging out with Bruce Willis' uniquely named children before making his way back to his sitcom soulmate. It's like a tribute to the in-between years.
Punk
This is the equivalent of naming a dog, Dog, and I think Mila and Ashton totally have it in them. If they don't steal my idea, I will have a baby just to name it punk.
Hoops
Because once they have two munchkins running around, date nights to go watch the basketball and have sneaky make out sections will be harder to come by. But at least they can be reminded.
Notsha or Alim
Apparently people are really into naming their babies with their own names backwards. It's sort of amusing. And in this case, both parents have names that work perfectly. Why not.
As heartbreaking as it is, it's not up to me. But they're already treading that fine between traditional names and more one-of-a-kind Hollywood type names — they should go all in with this one.