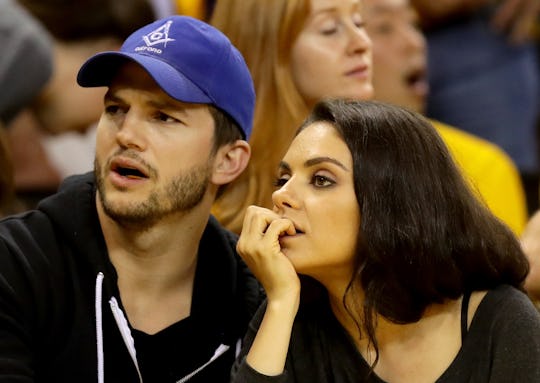 Ezra Shaw/Getty Images Entertainment/Getty Images
Mila Kunis & Ashton Kutcher Prep for Baby No. 2, & Things Are Different This Time Around
Mila Kunis and Ashton Kutcher might be rich, famous, and gorgeous, but when it comes down to it, they're just a couple of tired parents like the rest of us. The two are expecting a baby any day now, and based on the interviews they've given lately, the two seem to be feeling pretty chill about the whole thing. As Mila Kunis and Ashton Kutcher prep for baby No. 2, it's pretty clear things are a bit different this time around compared to the birth of their first baby, Wyatt.
The biggest difference? This time around there's a toddler in the mix. The couple's daughter, Wyatt, is just 2 years old. And as any mother can tell you, 2-year-olds couldn't care less about letting a pregnant lady rest.
"She is feeling good, although taking care of a toddler while pregnant is different for her than the first time around, where she could rest a lot more," a source told E! News about how the couple is handling things. "Ashton dotes on her though. He always carries Wyatt and doesn't want Mila doing any lifting at all. He has always been very hands-on, but he has really been taking over lately and trying to give Mila a break."
Doing anything with a toddler multiplies the task's degree of difficulty by like 10, but Kunis told Conan O'Brien in July she's coping by taking a much more laid-back approach to her second pregnancy.
With the first one, there were these apps where you could check daily to see the size of your baby based on fruit. So, oh, today my baby's the size of guava, or a banana, or avocado. And I did it, like, every day. I couldn't even tell you how far along I am right now. I'm like, I don't know. A couple months? I genuinely don't know how far along I am.
The couple, who were pretty secretive about their first baby, have also been a lot more forthcoming on details about baby No. 2, including a slip up by Kutcher on TODAY when he accidentally revealed the gender of their new baby when talking about how little Wyatt is adjusting to the idea of a new sibling.
"She points to Mila and she's like, 'Baby brother!' when she points to the belly," Kutcher said.
He also added he's calmer about becoming a father the second time around... mostly.
"The first one, I basically became a doula for the pregnancy," he said on TODAY. "I read everything you could possibly read, and this one, I'm like, 'Yeah, it's coming.' And you have a recognition that they're pretty durable. You're not going to break them. ... (but), I'm a little terrified to be honest."
Healthy doses of terror and confidence are the key to any good parenting approach. Good luck to Mila, Ashton, and Wyatt, and congratulations on the new addition to the family. Sounds like they've got this baby deal on lock this time around.