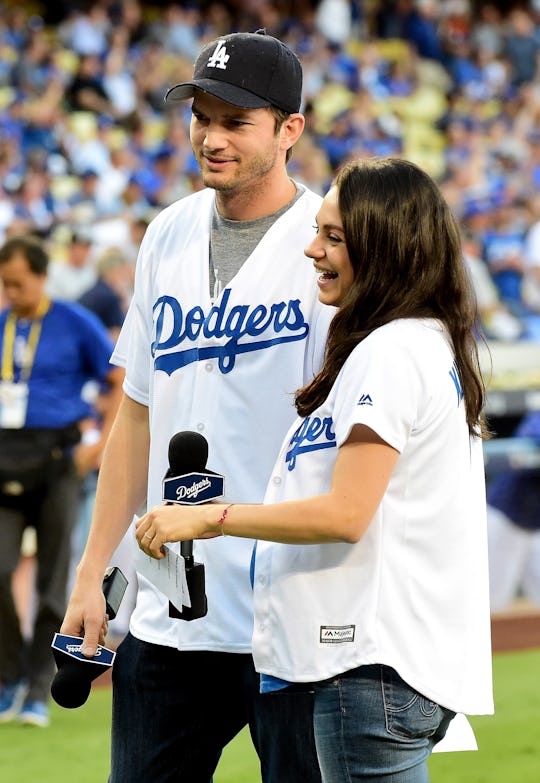 Harry How/Getty Images Entertainment/Getty Images
Mila Kunis & Ashton Kutcher Reveal Their Second Child's Name, & It's So Cool
On Friday, Mila Kunis and Ashton Kutcher revealed that their second child was born on Wednesday, Nov. 30, weighing in at 8 pounds and 15 ounces. According to A Plus, Kunis and Kutcher revealed their second child's name is Dimitri Portwood Kutcher, a name they landed on after experimenting with several different options. The couple are already parents to one 2-year-old girl, Wyatt Isabelle, who was born in October 2014.
The name might be a surprise to fans, but the baby's gender isn't: Kutcher previously revealed Dimitri's gender to the public during an October interview with the Today show. According to CNN, he said:
[Wyatt] points to Mila and she's like, 'baby brother' when she points to the belly, and then she points to dad and she goes, 'Beer!' So I think she gets there's something in the belly but I don't quite think that she knows that it's not going to be a plastic doll yet.
The couple haven't explained the meaning behind their second child's name, but I'm assuming it's an alternative to Hawkeye, an option that Kutcher jokingly raised on Conan. At the time of the interview, however, it did seem like Kunis and Kutcher had mostly settled on a name — possibly Dimitri? — with Kutcher explaining, "We have a name dialed in that we've had for a while, but you know, the problem is if you get the name too soon, suddenly there's like slight trepidation around the name ... even though we both love the name."
While fans now know Dimitri's name, they shouldn't expect to see baby pictures anytime soon. Both parents have been fiercely protective of Wyatt's privacy, and when she was first born, Kutcher shared several pictures of babies on A Plus, writing: "Can you guess which one is ours, or does it really matter? All babies are cute."
Despite the lack of pictures, however, Kunis has been generous in sharing her parenting stories and the lessons she's learned as a mom. "Have a baby, and you realize: The second you think you got sh*t figured out, you don't. It's the greatest wake-up call," she told Glamour in July. She continued:
Another important thing to learn is that kids have a personality that has nothing to do with you. I have a really sweet daughter. She wants to hug all the other kids. I didn't teach her to be sweet. It has nothing to do with me. I've realized you can control only so much.
With a new baby at home, Kunis and Kutcher are probably going to have to give up just a little more control — while also having double the fun. Congratulations to the family of four!