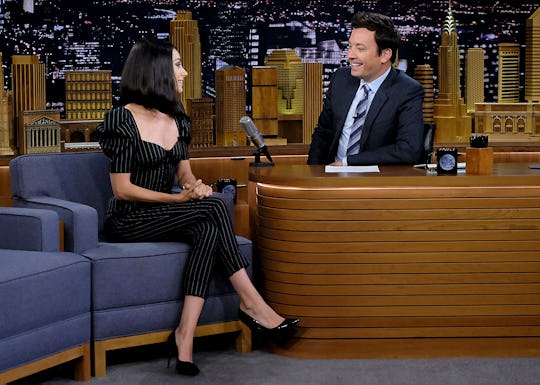 Jamie McCarthy/Getty Images Entertainment/Getty Images
Buckle Up, Because Mila Kunis & Ashton Kutcher's Honeymoon Story Is A Wild One
Mila Kunis and Ashton Kutcher are one of Hollywood's more private couples, but when they do decide to share a story, it's always super enlightening and pretty often, they're truly hilarious. Who is surprised by that, though, considering their successful careers in comedy? Recently, the couple shared one more rare tale about their life and Mila Kunis and Ashton Kutcher's honeymoon story will have you rolling on the floor laughing.
Although Kunis and Kutcher appeared together on the hit That '70s Show, portraying on-again-off-again couple Jackie and Kelso, the couple didn't begin officially dating until well after the show's end. The final episode aired in 2006 and, six years later, the duo announced they were a couple.
The couple got married in the first weekend of July 2015 in Oak Glen, California, according to Extra. Currently, they have two children: daughter Wyatt Isabelle (born October 2014) and Dimitri Portwood (born November 2016). As you'll see, their daughter Wyatt is pretty central to the story.
On July 30, Kunis appeared on The Tonight Show and decided to tell host Jimmy Fallon the incredibly wild story of her honeymoon. And let's just say that while it isn't exactly the most romantic, it's definitely one of those family stories that's (eventually) funny to reflect on.
Kunis started the story by saying, "If you've ever seen the National Lampoon movies, our honeymoon was like a real life National Lampoon's Honeymoon."
For those who don't get the reference, National Lampoon was an American humor magazine that ran from 1970 to 1998, according to The Guardian. It originally started as a spinoff of the Harvard Lampoon and ran from there. There are plenty of films using the National Lampoon name and although dedicated fans debate what constitutes a real National Lampoon movie, one common factor remains: they're hilarious. And they're wild.
It all started with one fatal error: Kunis gifted Kutcher an RV for his birthday. Don't make the mistake of assuming it was a luxury RV. As Kunis explained to Fallon, "You know those RVs you see that have, like, a dog on the side of them? They're like RV America!"
In addition to Kunis, Kutcher, and their 10-month-old daughter, Kutcher's parents came along in an RV of their own. This one was luxury.
To start the fun, the air conditioner in their RV broke, which meant they had to deal with 110 degree heat. And, as it can sometimes be prone to do, their maps app didn't lead them anywhere useful when they set off for repairs. "We almost died on the side of a road when Apple Maps took us on a road — it wasn't a road," Kunis told Fallon. "It was a fire road on the side of a mountain."
Then, after having to walk three miles while their father-in-law drove with Kutcher navigating, Kunis revealed that her mother-in-law had gone the old-fashioned way when choosing the location of their RV park. As in, she used books. Now, books are great, but they get outdated fast, especially when it comes to travel.
"I'm not going to recommend any place we stayed," Kunis told Fallon, describing their location as "an RV park not in Napa, but an hour outside of Napa. With two prisons."
All of that might seem like enough to make anyone call off RVs and road trips for life, but those mess-ups are honestly all part of the fun. Not the in-the-moment fun, but the we-can-laugh-at-this-five-years-later-fun and it seems Kunis is on board with that. When asked if she'd ever go RVing again, Kunis told Fallon, "Absolutely! It was fantastic!"
If they ever do pack up in that not-so-luxury RV again, her fans will definitely be waiting for another hilarious story.