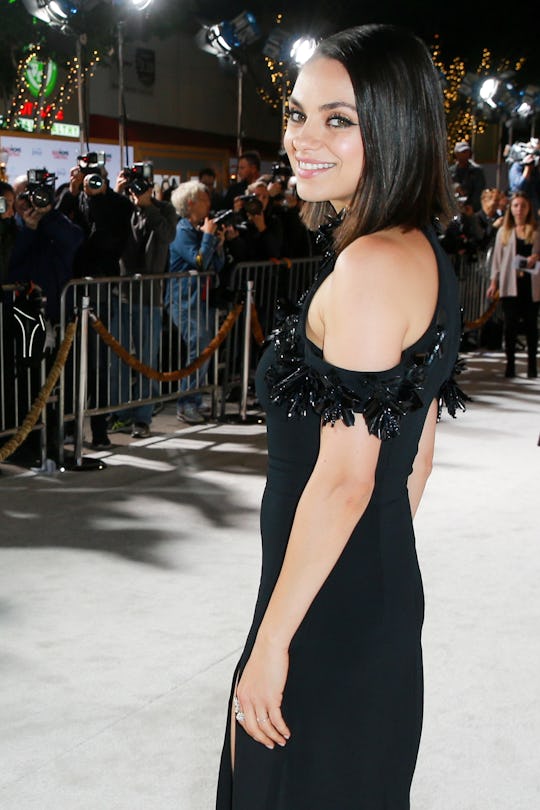 Rich Fury/Getty Images Entertainment/Getty Images
7 Times Mila Kunis Got Hilariously Real About Parenting
From Jackie and Kelso, to Mrs. and Mr., to mom and dad; I have watched Mila Kunis and Ashton Kutcher grow in their relationship with pride and just a tinge of envy. Together, the two have blossomed into serious couple goals and have grown an adorable family together. And as Mila Kunis' funniest parenting quotes show, motherhood hasn't taken away her sense of humor — if anything, it has added to it.
The couple welcomed their first child, Wyatt Isabelle Kutcher, at 1:23 a.m. on Wednesday Oct. 1, 2014, People reported. "Mila and I would like to welcome Wyatt Isabelle Kutcher to the world. May your life be filled with wonder, love, laughter, health, happiness, curiosity, and privacy," Kutcher wrote on his website to announce their entrance to parenthood. Just nine months later, Kunis and Kutcher married in July 2015 in secret garden ceremony, according to People. The two kept the details of their new baby and their wedding under wraps.
Their second child, Dimitri Portwood Kutcher, was born at 1:21 a.m. on Nov. 30, 2016, weighing 8 pounds and 15 ounces, according to a statement posted on Kutcher's website. Despite the secrecy surrounding the big events in their lives, Kunis and Kutcher have opened up numerous times about their experiences as parents. Kunis, in particular, has made use of her comedic talents to share with her fans what motherhood looks like through her eyes.