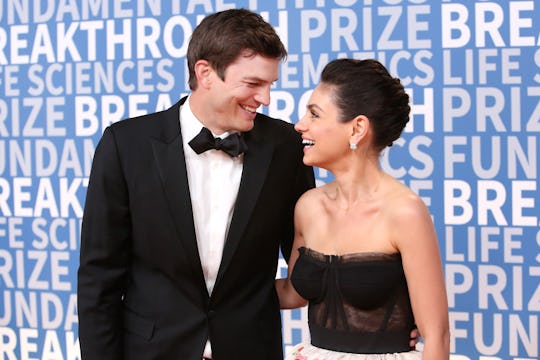 Jesse Grant/Getty Images Entertainment/Getty Images
Mila Kunis' Quotes About Ashton Kutcher Show That She Could Not Be More In Love
Mila Kunis and Ashton Kutcher are the example of some pretty cute celebrity parents. After starring on the TV show, That 70's Show together in their early teens to later reuniting in life to come together as husband and wife (and mom and dad), Kunis and Kutcher are super adorable — and it shows. But the best part about the couple is, Kunis' quotes about Kutcher show that their relationship could not be any more cuter on the inside, as it appears on the outside.
Kunis and Kutcher call themselves parents to two children — a 3-year-old daughter, Wyatt Isabelle, and a 1-year-old son, Dimitri Portwood, according to People. The best part about Kunis being a mother, according to E! News, is the fact that she does not "sugar coat" the realities of parenting, raising a child, and being a wife. As an actor, Kunis has starred in some of your favorite films, like Friends With Benefits and Forgetting Sarah Marshall, but when she became a mom, her priorities changed. During a Reddit AMA, according to E! News, Kunis told her fans that becoming a mother changed her and the way she viewed things. "It is the most life changing experience you can have, in my opinion," Kunis said. "Everything changed. I am proud to be a stay-at-home mom. I have no desire to be in front of the camera. I find her to be the most challenging job I have."
But before they could become parents and Kunis formed this philosophy, Kunis and Kutcher had to become a couple. And the following things that Kunis has said about Kutcher shows that their foundation is as solid as ever.
On The Moment She Met Her Husband
As previously stated, Kunis and Kutcher first met each other when they were costars on That 70's Show and he was her first kiss ever, according to People, when their kiss was written into an episode of the show. Yet, in spite of their close proximity to one another, it wasn't necessarily love at first sight.
During an appearance on The Late Late Show with James Corden, according to TODAY, Kunis told Corden that the spark between them wasn't necessarily there. "Ashton did my chemistry homework for me (on the set of That 70's Show)," she said, according to TODAY. "He was so not the guy I was like, 'You're so hot!'"
On Their Decision To Get Married
Making a relationship official is a big deal and the decision to settle down with the person you're with is a huge leap. Kunis revealed to Howard Stern in an interview that she and Kutcher both agreed that they didn't want to get married, at first. But, of course, the tables would eventually turn. Kunis said in the interview, according to Elle:
We started dating with the idea we're both never going to get married. [Kutcher] just got out of a marriage. I got out of a long relationship. I was single and having the best time ever. I was totally dating, having a great time, and I was like "I'm never getting married." He's like, "Great neither am I!" And we're like shaking hands on it and we're like, "Life is great!" A year later we're like, "Tomorrow, let's get married."
Because thats how most great relationships start — with two people unknowingly getting together to create something magical.
On Having Open Communication
Although neither Kunis or Kutcher wanted to get married, they didn't want to put a label on the early stages of their relationship, either. Kunis revealed to Howard Stern, according to Elle, that the couple had avoided labels for as long as possible and thats where communication became key. Kunis said, according to Elle:
We were both in agreement. Like "Yeah this is just fun. Just fun," shook hands on it, "this is just fun." Three months later I was like, "This isn't fun anymore." We were always open with one another in regard to like where we were with our feelings. We found out we would literally attempt to see other people and then like that night we'd be like, "Hey what are you up to? Wanna come over?" It ended up being just having fun to genuinely wanting [more] — when I realized I was nervous [about him going out with someone else and me losing him] was when I spoke to him. I was like, I don't like this anymore.
On Her Husband's Quirks
Although living with anyone is hard, in an interview with E! News this past October, Kunis revealed that living with Kutcher is super easy. Kunis told E! News, according to Us Weekly:
I can give you an honest answer, and this is going to be the opposite of what you want to hear, but my husband does not annoy me. He doesn't. He really doesn't. I don't know if this happens later, but we've only been married a handful of years, you know, its very much in the honeymoon phase. We still really love each other daily.
On Having A Partner In Crime
In that same interview with E! News, according to Elle, Kunis revealed that Kutcher was definitely her partner in crime when it came to everything, including parenting. "I have an unbelievable partner in crime, I really do," Kunis said, according to Elle. "And I'm so grateful for it every single day."
On Her Husband's Role In The Delivery Room
In 2014, shortly before giving birth to her first child, Kunis hilariously revealed to Marie Claire that she hoped that Kutcher (who was her fiancé at the time) would be in the delivery room with her, but he would have to follow a few rules, first. Kunis said, according to E! News:
Two people are allowed in my delivery room: my doctor and my significant other. And [my future husband] is staying above the action. He'll be head to head. Not head to vag. Unless he wants to risk his life and see. But I wouldn't if I were him. I highly doubt he wants to see being ripped apart and shredded. Because it will be shredded. It's just a matter of how badly.
Judging from these quotes, its clear that Kunis could not think more highly of her husband and it's very, very cute.