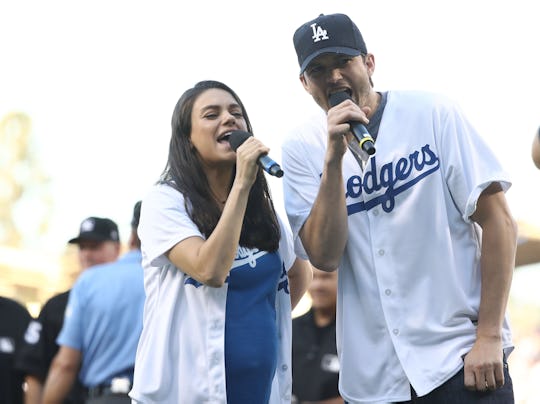 Sean M. Haffey/Getty Images Sport/Getty Images
Mila Kunis On The Reality Of Date Nights After Kids
It's no secret that your personal life changes after you have kids. They have a way of sort of taking over — and that applies if you're a celebrity as well. At CinemaCon in Las Vegas this weekend, Mila Kunis talked about date nights with her husband after the couple had kids and how her idea of a "wild night out" has changed.
Kunis, who just had second child Dimitri Portwood three months ago, is lucky enough to be able to go out with her friends. She recounted a recent story about meeting up with friends for dinner and drinks. "I got home at 10:30 p.m. from a dinner and I had three penicillins which is a delicious, delicious beverage," she said. Kunis laughed that she was "hammered" but that she was content in being a "very cheap date" now that she's not out on the town as often she was before having children.
It's fine, of course, to come home a little tipsy when you go out on your own. But Kunis said that she and husband Ashton Kutcher never go out on "wild" date nights anymore.
"Because in the morning we still have kids," Kunis said. "Your date night can't be that wild because at 7 in the morning you still have, 'Mama' and you're like, 'What? I'm up.'" (That doesn't mean the two don't go out though — they're often spotted watching basketball together and out and about.)
It's only been three months since their son was born, so you can't blame them for being exhausted. If they were able to find the time for wild date nights, work, and parenting a newborn and a toddler, it would be pretty impressive.
Luckily, Kunis says that things are pretty easy at home. Wyatt, her 2-year-old daughter, is already in love with her new baby brother. "She loves it. She loves her brother. She wants him to sleep in her room and doesn't get jealous or envious. She's great. We got very lucky," Kunis joked with E! News. The Bad Moms star said that the household dynamic is "different when there's two," but that they're all adjusting pretty well.
Later this year, Kunis will be out of the house and on the set of Bad Moms 2, which reportedly features new characters this time around — the moms of each of the other characters, including Kristen Bell and Kathryn Hahn. The movie comes out around the holiday season, so it will be a good escape for both fans and moms in general, for sure.
Her date night routine may have changed, but it sounds like Kunis and her family already have enough fun as it is.