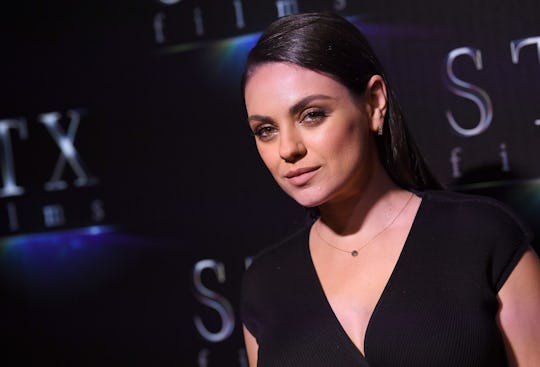 ANGELA WEISS/AFP/Getty Images
Mila Kunis' Says All Moms Develop One Trait That Makes Them "Ragged Tired," & It's So Damn True
Ah, celebrity parents. They have a way of making us common folk think they're just like us — you know, despite their unimaginable fame and fortunate. Well, Mila Kunis says motherhood had her feeling "ragged tired," and I am so with her.
In an interview for Marie Claire's November issue, the Bad Moms star speaks frankly about the demands of parenting. Kunis and husband Ashton Kutcher have two children, a daughter Wyatt Isabelle, 3, and a son, Dimitri Portwood, 10 months. And according to the former That '70s Show star, juggling work and parenting her two little ones has caused her to neglect her own needs to the point of exhaustion. Hmm, sounds familiar. Kunis said there's one trait in particular that moms develop that makes them sacrifice everything, including any sleep or time to themselves: "What motherhood shows you is how selfless you can get. I'm ragged tired," she said, according to People. "Who cares? My kids are healthy, I'm happy."
As Kunis and Kutcher have spoken openly about in the past, the celebrity couple opted to skip the whole nanny business. Instead, they have chosen to take on parenting responsibilities without the extra hands many celebrities splurge for. Being the ones to wake up at night with their kiddos — on top of their incredibly demanding lives — undoubtedly contributes to the actors' level of exhaustion, like most parents.
"We just want to know our kid," Kutcher said back in 2014 on The Ellen DeGeneres Show, just a couple of months after welcoming baby Wyatt. "We want to be the people that know what to do when the baby's crying to make the baby not cry anymore. We want to know, like, when she makes a little face or a little something, we want to be emotionally in touch with her. And I think the only way to do that is by being the one who's there. And that's it."
When I was pregnant with my first child, I remember reading and being told to "sleep now while I can because it wasn't going to be happening once our baby arrived." I mostly brushed it off. Well, obviously I would be tired from losing sleep due to taking care of my baby. But guys, I had no idea.
Now that I'm three kids in, I've come to the conclusion that there's no way you can truly prepare yourself for how exhausting parenthood really is. I mean, back in college, I used to complain about being tired; between juggling work, classes and an internship, I was pretty wiped. Now, post-kid me wants to slap college me. Because she had no idea. I could always sleep in on the weekends back then. Or, catch a nap during a spare hour or two. These days? Not. Happening. There's no catching up on sleep with three little ones — including one who insists on bed-sharing — who wake up at 7 a.m. or earlier every single day without fail.
From the moment I wake up in the morning until my head hits the pillow again that night, I'm constantly on the go. Just getting all three kids fed, dressed, and out of the door in the morning is exhausting! But then there's school drop-offs and pick-ups, meals, homework, endless diaper changes, breastfeeding, baths, getting things ready for the next day, and bedtime again — on top of working from home and tending to my own needs as a human being. It's a whole new level of "tired" I couldn't have imagined before children. The emotional fatigue is real, too. Constantly being touched by little people who look to you for guidance in navigating this crazy world, and who count on you for everything. Some days, this mama can't even by 5 p.m. But you know what? My tough moments are so worth it.
But yeah. I'd say "rugged tired" is an accurate choice of words. And I'm right there with ya, Mila.