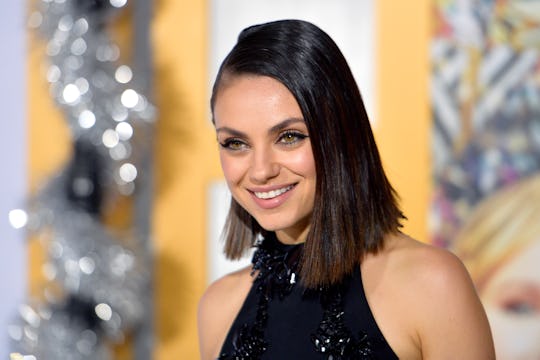 Matt Winkelmeyer/Getty Images Entertainment/Getty Images
The Reason Mila Kunis Says She's "Not Friends" With Her Kids Makes So Much Sense
Mila Kunis and Ashton Kutcher couldn't wait to have kids before they became parents to their 3-year-old Wyatt Isabelle and their 11-month-old son Dimitri Portwood, as the actress said in a recent interview. But that doesn't mean that their household morphed into a euphoric free-for-all once they did. In fact, the former That '70s Show co-stars turned married couple have "routined the sh-t" out of their little ones, Kunis shared with NET-A-PORTER's digital magazine THE EDIT, along with another revealing detail: Mila Kunis said she's "not friends" with her daughter, and it's actually a perspective worth exploring for all parents.
Kunis — whose Bad Moms sequel, Bad Moms Christmas, premiered Wednesday — opened up about all things parenting with THE EDIT. Specifically, she told the mag that she's working to make sure her kids turn out to be people, who, well, don't have stinky personalities:
I don't think any parent wants to be responsible for a child that grows up to be an a--hole. I want to raise a kid that I would be friends with. I'm not friends with my daughter now — she's not my friend, she's my daughter — but later in life. In my 20s, [my mom] became a friend of mine.
And, yes, it appears that for Kunis that means not getting all buddy-buddy with her offspring — at least not yet. That may sound kind of harsh, but it's really, truly not. Actually, it's a choice that — despite the current millennial infatuation with becoming besties with their parents — some parents consciously make because they believe cultivating a friendship with their kids is not in their best interests. At all.
It was perhaps popular YouTube personality and mother of three Kristina Kuzmic who put it best last year in a viral video appropriately titled "I'm not your friend, kid! (Because I love you.)" In the two-minute video, an ice cream-gobbling, wine-drinking Kuzmic shared that all her kids are mad at her right at that moment — and revealed that actually, she doesn't care, because she's their parent, not their friend:
Until my kids are adults, I am not their friend. We are not on the same level. I'm the authority. My child's wellbeing is more important tome than my child's opinion of me. My job is not to be liked by my kid and I don't take it personally when my kid doesn't like me. And, honestly, if my kids like me 100 percent of the time, I'm probably failing at parenting.
In the interview, Kunis doesn't explain exactly why she's not friends with Wyatt (beyond that fact that she's only 3 years old, that is). Like Kuzmic, though, she does leave the door open for easing the friendship ban once her kids are all grown up. For writer and single mom Dena Landon, though, even that's out of the question. "Friends, a partner, other adults are in my life to meet my emotional needs and have their's [sic] met in return," she recently wrote in a piece for Good Housekeeping. "To place that burden on a child's shoulders is unfair — and this doesn't change as he ages."
For Landon, as she wrote, it's important that her son never feel as though he owes his mother anything — and most people would agree that a successful, healthy friendship has to be a two-way street. And then there's the fact that parents are supposed to point out when "something's not acceptable" (i.e. dole out the consequences and guidance parents are known for), as University of Rochester psychology professor Judith Smetana told New York Magazine last year.
She has a point. When was the last time one of your friends grounded you? Probably never. But, sometimes, that kind of tough love is exactly what kids need. And Kunis' daughter has a long time to go before she stops needing her parents' guidance, that's for sure.
Watch Romper's new video series, Romper's Doula Diaries:
Check out the entire Romper's Doula Diaries series and other videos on Facebook and the Bustle app across Apple TV, Roku, and Amazon Fire TV.