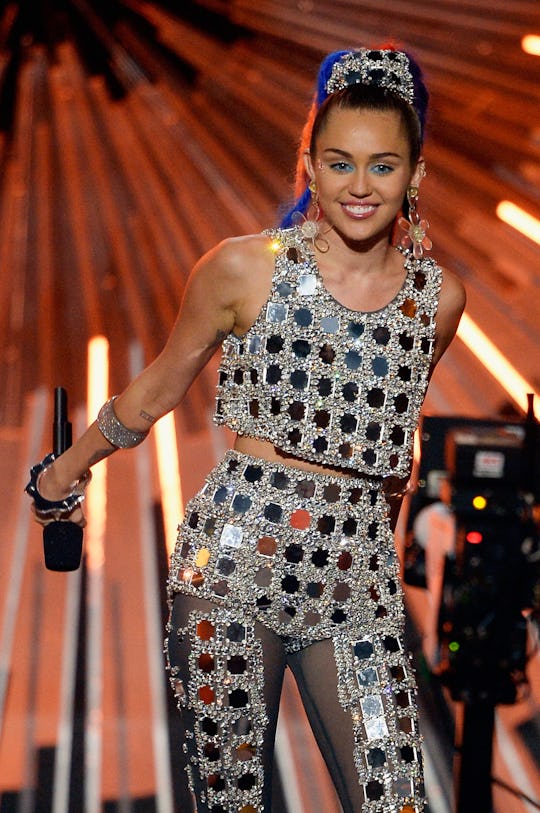 Kevork Djansezian/Getty Images
Miley Cyrus Is 23 Today, So Here's A Look Back At Her Most Badass Feminist Moments Of The Past Year
Today our favorite, outspoken, semi-nude, former-Disney star Miley Cyrus turns 23, and can I just say, she's had a pretty crazy year. A year that was filled with crazy outfits, bizarre photo shoots, a feud with Nicki Minaj, and let's not forget that time she allegedly got caught smoking a joint in the press room after hosting the VMAs (because, why not?). Miley Cyrus is definitely controversial, and many people love to hate her, but one thing is pretty clear: She's a total badass. Over the past year, we've seen her embrace her inner feminist, advocating for equality, criticizing double standards, and generally celebrating the awesomeness of women everywhere. And that's definitely worth celebrating today.
Of course, people have a lot of opinions of Cyrus and her claim that she is "one of the biggest feminists in the world." She is constantly criticized for her in-your-face brand of sexuality, her envelope-pushing performances, and, particularly, what many people argue is her appropriation of women of color and black culture. And, admittedly, sometimes her own comments miss the mark, and seem to feed further into the negativity that other people like to spew in her direction. But whatever your feelings are about Miley Cyrus, it has to be said that anybody self-identifying as a strong feminist with intentions of supporting women and gender equality is a totally awesome thing, and, really, is there ever just one right way of being a feminist? Not to mention that Cyrus is still only 23, and her social and political outlook is definitely going to evolve as she gets older (remember when Taylor Swift used to say she wasn't a feminist? Or Katy Perry? And then they got a little older and realized that was ridiculous? JUST SAYING.)
So today, in celebration of the birth of the girl who introduced twerking to the masses (uh, thanks?), here are some of Miley Cyrus' best feminist moments from the past year.