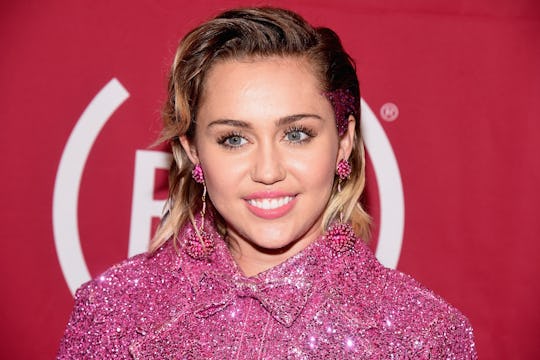 Dave Kotinsky/Getty Images Entertainment/Getty Images
Miley Cyrus Is Joining 'The Voice' As A Judge & That's Only Half The Amazing News
Miley Cyrus is one of the most unpredictable celebrities. There is no telling what she'll wear, say, or do next which is one of the many things to love about the singer, actor and activist. So, her next career move should come as no surprise to anyone because Miley Cyrus will be a judge on The Voice next season and that is only half of the news. Powerhouse songstress Alicia Keys will also be joining her on the panel of coaches. Somebody wake me up because I feel like I am definitely dreaming.
Cyrus and Keys will be replacing judges Pharrell Williams and Christina Aguilera, taking over their chairs and big red buttons for the show's 11th season. They will be joining The Voice judging panel mainstays, Blake Shelton and Adam Levine.
The show, which originally started with coaches Cee-Lo Green, Shelton, Levine and Aguilera regularly started rotating the coaches around in Season Four of the show. This rotation was established so the coaches could temporarily leave for a season when record label obligations rolled around. Since then, Shakira, Usher and Gwen Stefani have all had their chance to sit in the chairs.
Cyrus took to Instagram on Friday to announce her new position and her excitement was contagious.
"It's true! I'm going to be the newest judge on Season 11 of The Voice...I can't wait!" Cyrus captioned the photo. Cyrus currently appears on this season as a mentor to contestants — which means she provides advice to the contestants during their practices. This also means she'll have plenty of experience when Season 11 rolls around this fall.
NBC confirmed the two new judges on Friday.
"The musical expertise and energy these two incredibly talented women will bring to the show is remarkable," Paul Telegdy, NBC's president of alternate and late-night programming, said. "We're thrilled that they'll be joining Adam and Blake in what we know will be a magical season."
He is right about that; it will definitely be magical. It seems like every time Miley Cyrus is on television something amazing or exciting happens and I can't wait to see what she'll pull off this time.
Alternately, Keys will also be an amazing judge. The soulful singer has a personality suited to helping people and will definitely be an asset to the panel of judges on the show.
Even though Season 10 of The Voice is still airing, that doesn't stop me from wishing that it were over already so Season 11 can finally start.