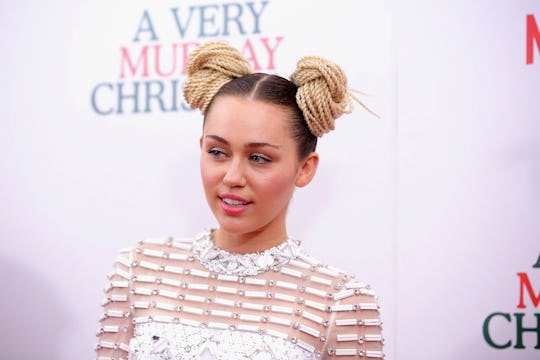 Jemal Countess/Getty Images Entertainment/Getty Images
Miley Cyrus Posts A Jodie Sweetin Instagram & 'Fuller House' Fans Are Livid
Don't expect a Miley Cyrus cameo on Netflix's Fuller House anytime soon. The twerking singer just went to Instagram to put the show's Jodie Sweetin and her wild-child past on blast. While Cyrus' fans seemed to LOL over the whole thing, watchers of the '90s reboot made it clear they aren't too happy with Cyrus and her throwback.
Cyrus randomly went to Instagram to post a picture of the actress, who plays Stephanie Tanner on the show, during her troubled times a few years ago. Instead of judging like crazy, Fuller House fans immediately called the almost-always-posing-naked star out for crossing a line. The picture showed Sweetin looking a little under the influence while straddling a man. Cyrus also pasted the face of Sweetin's Full House costar David Coulier on the straddled man. She captioned the pic, "Current Mood #fuller house."
Sweetin fans didn't think Cyrus' comment was very cool. "Seriously effed up to post this...Anything to get attention I suppose Miley," E! News quoted one person saying on social media. "Haven't been a fan since the Hannah Montana days and this just reconfirms how terrible you have become," another posted.
"She is now a different person, and it's not ok to drag someone for their past," another commented.
I kind of shocked to see the raunchy post, too. Not only is it a bit rude to bring up Sweetin's past, but I don't get why Cyrus isn't trying to empower Sweetin instead of put her down. You did just start the Happy Hippie Foundation didn't you, Miss Cyrus? The post just doesn't seem too hippie or happy to me.
But then again, maybe there's a beef between these two? There's no online evidence of that, though. Oh, and hasn't Cyrus done some crazy things in her past, too? You know, like smoking marijuana on stage during big performances, or posing nude for a number of magazines? And, of course, slut shamers went crazy after her foam finger dance with Robin Thicke. I mean, Cyrus doesn't deserve to be criticized for those things (especially when Thicke wasn't criticized at all), and she definitely doesn't deserve to be ridiculed via a patronizing Instagram.
E! News' Erin Lim talked to Sweetin Tuesday morning at the announcement of the new Dancing With the Stars cast, where she addressed Cyrus' unfavorable photo. Sweetin made it clear that she's staying positive.
"I don't pay attention to negative stuff," she told them. "I have so much good stuff going on in my life right now that I try not to pay attention."
What a brilliant, positive response.