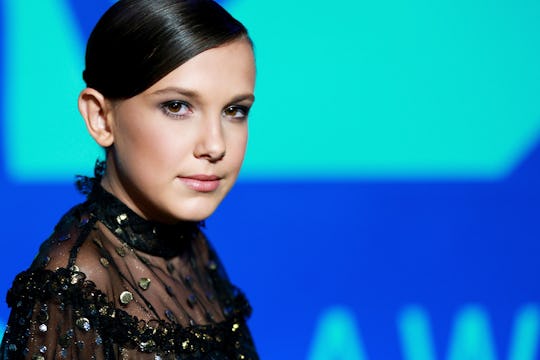 Rich Fury/Getty Images Entertainment/Getty Images
Millie Bobby Brown Looks Completely Different With Her New Hairstyle, & Fans Are Obsessed
When you binge watch a Netflix series, it is very easy to get emotionally attached to certain characters, especially if you've been watching the series for hours at a time. Stranger Things is one of those series where fans have certainly grown to love the characters and the people who play them. I mean, the cast of rag tag kids in the '80's based science fiction show, are so darn cute. So, when something about the characters change, people really take note. During the red carpet premiere for Stranger Things Season 2 this week, Stranger Things star Millie Bobby Brown looked completely different with her new hairstyle and needless to say, fans are obsessed.
If you haven't seen Stranger Things Season 1 by now, you should. And if you haven't spent all day inside watching Stranger Things Season 2, then you're not among the many Netflix subscribers who spent their Friday watching the new season of the series in its entirety — and you need to.
Fans of Stranger Things know actress Millie Bobby Brown as Eleven, the young psychokinetic girl that assists Will's friends in finding their friend who has disappeared. In season one of the show, Brown's hair was closely cropped to her head, wearing that iconic pink dress and blue jacket on top. But on Thursday Brown debuted a new look that is a far cry from her season one character and she looks amazing.
According to W, Brown's red carpet look was so shocking due to the fact that she has been slicking her hair back during her recent appearances. This red carpet appearance marked the first time that fans had truly seen Brown with her grown out hair for since before Stranger Things began filming.
Fans on Twitter can not handle Brown's appearance, taking to the website to express their excitement about Brown's new look — which is so unlike Eleven, it's strange (see what I did there?).
Brown is only 13 years old, but she looks absolutely stunning with her fully grown out hair and anti-Eleven outfit. If you ever needed proof that she is going to be a star and break out from being typecast as an Eggo waffle loving weirdo, this is it.
In season two, according to Cosmopolitan, Brown sports a curlier, longer haired look (and it isn't a wig) than what fans are normally used to. Brown told People that Eleven's new hairstyle in season two is part of her character's transformation. Brown said:
...This season she's more vulnerable and scared, so she has a different look. It's more of a coming of age story for her. She's trying to be a normal teenager...That's something I'm also going through right now.
In order to prepare for her Stranger Things role, Brown had to shave her head, according to Elle. Brown captured the momentous occasion on video when she shaved her head a year ago and shared it to Twitter for the world to see. The video, set to a Beyoncé song, is so bad ass.
Shaving your head at such a young age is probably not something that every 12-year-old girl thinks as fun, but Brown was able to pull it off — and she is able to pull off this new long-haired look just as well.
While this new look is amazing, Brown's hair style preference will surprise you. Brown told E! News during the Stranger Things Season 2 premiere that she actually prefers her shaved head over her long hair. "Shaved head will always be my favorite hair style," Brown said.
Even though Brown prefers her old look over her new one, you can't deny that she looks fantastic.