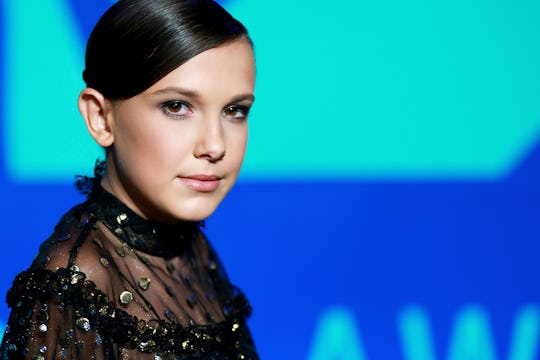 Rich Fury/Getty Images Entertainment/Getty Images
Millie Bobby Brown Opens Up About Shaving Her Head With An Inspiring Message To Girls
Some celebrities are just so easy to adore. There's Emma Watson, Tom Hanks, Kristen Bell, and Mindy Kaling. Oh, and of course one certain 13-year-old star from Stranger Things, Millie Bobby Brown, who recently opened up about shaving her head for the show in an empowering Instagram post that will hopefully reach other young girls everywhere. Because sometimes it takes letting go of a security blanket to realize that who you are so much more than your outward appearances.
As fans of Brown and the hit Netflix show know, the young star has already had quite a few changes to her looks since becoming an actor. For her role as Eleven in Stranger Things, Brown had to shave her hair off, and it was quite a drastic transformation. But fans weren't aware of just how drastic it was for her until Sunday evening when the young star took to Instagram to share a video of her hair being shaved off, along with an inspiring caption.
"The day I shaved my head was the most empowering moment of my whole life," Brown wrote. "The last strand of hair cut off was the moment my whole face was on show and I couldn't hide behind my hair like I used to."
She may be a 13-year-old, but Brown is so obviously wise beyond her years and her fan following (both young and old) couldn't have a better role model to look up to.
The video Brown shared may only be seconds long, but it still showcases her initial reaction to seeing herself with practically no hair. Clearly, she was shocked, as almost anyone would be. And as she wrote in the caption, she didn't really know what to expect either. But that wasn't the point. For Brown, shaving off her hair helped her learn that there are so many more important things out there other than trying to look a certain way that society has deemed acceptable, or unacceptable. In her caption, Brown explained:
As I looked at myself and couldn't see my old self, I realized that now; I have a job to do and that is to inspire other girls that your image or exterior part is not what I think is important.
And truly, while Brown's fan base is comprised of so many people (12.2 million to be exact), her post sends such an inspiring message to young girls, especially. As research has shown, 5-year-old girls "are already expressing a desire for a body that is thinner than their current self or future self," as vice president of research for Common Sense Media, Seeta Pai told CNN. And it isn't just body image that young girls struggle with.
According to research from the charity Girlguiding UK, 38 percent of girls between 7 and 10 years old don't think that they are pretty enough, as reported by The Guardian. And that's something that Brown and parents alike just aren't OK with. As evidenced by her latest Instagram post, the actor wants young girls to know that they are enough, just as they are. For her, it isn't about outward "beauty," but about something much deeper. "What I find important is caring, loving and inspiring other girls," she concluded her caption of the transformation video on Sunday evening.
Brown isn't new to using her social media presence to spread love and encouragement. Since she started her Twitter account in July 2017, she has maintained that it was to be a force of good in the world.
And she has seriously followed through on that promise.
Her latest Instagram post is just further proof that Brown isn't just Eleven on Stranger Things, she's also an 11 when it comes to being one of the coolest and most empowering celebrities out there.
Check out Romper's new video series, Romper's Doula Diaries:
Watch full episodes of Romper's Doula Diaries on Facebook Watch.