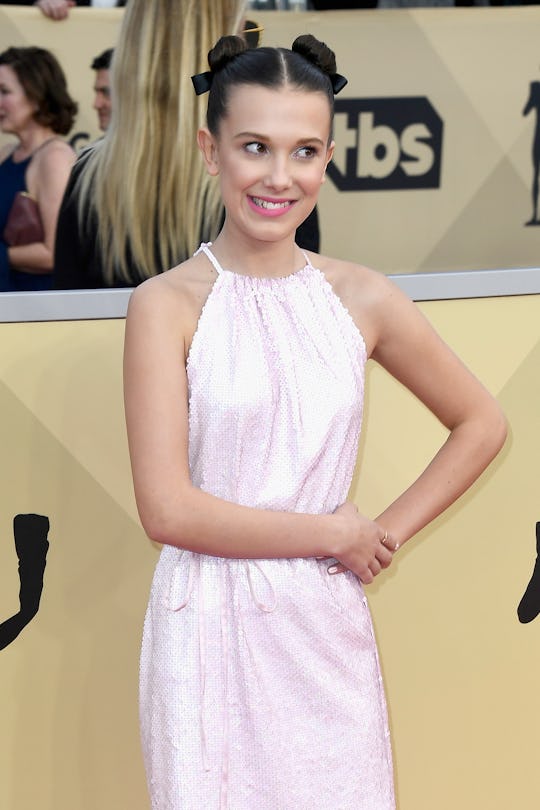 Frazer Harrison/Getty Images Entertainment/Getty Images
The One Detail Of Millie Bobby Brown's SAGs Look Will Make You Love Her So, So Much
I don't know about the rest of you but I was extremely excited to see what one particular actor wore on the red carpet at the 2018 SAG Awards. That would be fashion wunderkind Millie Bobby Brown, star of Stranger Things. And I was definitely not disappointed. Millie Bobby Brown wore converse to the SAG Awards and Twitter is obsessed. I mean how can you not be?
As soon as Brown, who is (in case you forgot) 13 years old, started showing up on red carpets following the success of Stranger Things, it became incredibly clear that this lady knows a thing or two about fashion. Brown probably looks more put together on an average Tuesday than I will on my own wedding day. So obviously, I was excited to see what she'd wear to the SAG Awards this year, where she is nominated both as part of the Stranger Things ensemble as well as for Best Female Actor in a Drama all on her own. So imagine my surprise when this girl completely changed the game by showing up in two little buns with bows in her hair and Converse shoes. Everybody else can go home now. Brown is the best dressed forever. And obviously Twitter agrees with me.
Brown first established herself as a bona fide fashion icon at the 2016 Emmy Awards, when Stranger Things had first appeared on Netflix and made its way into all of our hearts. Brown showed up in a sheer Red Valentino gown embellished with little birds. And that's when the fashion world knew that it had a new star on their hands. At least, I assume so, since I'm not exactly a huge part of the fashion world myself. All I know is that for the 2018 Screen Actors Guild Awards, Brown looked like a 13-year-old Queen, which I think is going to be my new aesthetic from now on.
Brown paired a sequined bubblegum pink slip dress with Converse shoes, which I believe is the ideal uniform for extremely cool teen girls the world over. It was definitely a far cry from her Golden Globes dress, which was also amazing, if far less playful. For the Globes, Brown wore a short black Calvin Klein dress, with a dramatic front and even more dramatic open back. She paired this with some strappy heels and hair pulled into a chic bun. So it was fun to see Brown's style look a little more middle school and less, well, red carpet.
Brown's maturity, enthusiasm, and overall bubbly attitude always makes her a red carpet favorite. And this awards ceremony was absolutely no exception. In her red carpet interview on E! with Giuliana Rancic, Brown explained that she loves to dance after awards shows, whether she wins or loses, which is why she needed to wear the comfy shoes. She also noted that she wouldn't be "partying" per se, because she's 13. Obviously. When asked what her big plans were for after the ceremony, Brown said that she was looking forward to watching TV and eating pizza with her family. Which means that Brown and I are basically the same person.
Brown is up against some stiff competition in her category of Best Female Actor, though. Her fellow nominees include Claire Foy for The Crown, Elisabeth Moss for The Handmaid's Tale, Robin Wright for House of Cards and Laura Linney for Ozark. Those are some fierce competitors, but I feel fairly certain that win or lose, Brown is going to be just fine in her future career. And she's going to look incredible doing it.
Check out Romper's new video series, Romper's Doula Diaries:
Watch full episodes of Romper's Doula Diaries on Facebook Watch.