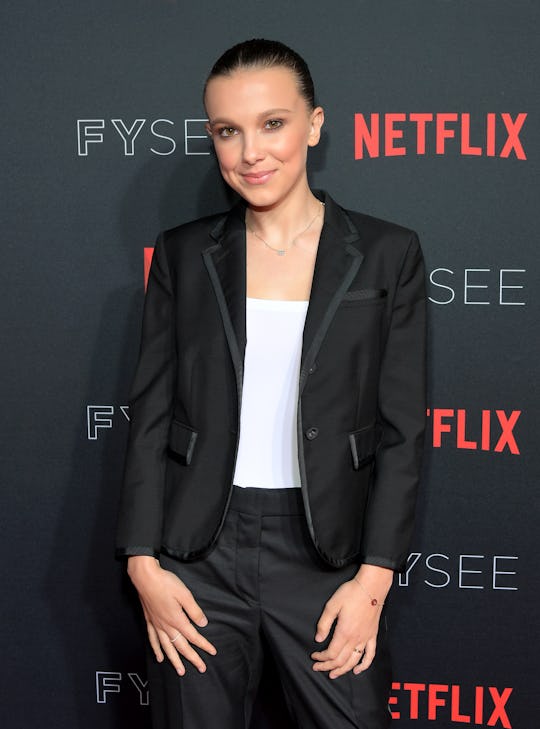 Charley Gallay/Getty Images Entertainment/Getty Images
Every Parent Should See Millie Bobby Brown's Powerful Anti-Bullying Speech — VIDEO
They say that with great power comes great responsibility, which is why it's always refreshing when celebs use their platforms to raise awareness for important issues. Especially if it means helping people feel better. After having to leave social media because of people harassing her, Millie Bobby Brown gave an anti-bullying speech at the MTV Movie & TV Awards on Saturday night (the awards aired on Monday night), encouraging her fans to stand up for themselves.
Brown couldn't attend the awards in person because of a knee injury, as per People, but she recorded a video message to accept her award for her role in Stranger Things. She said
Since I know there are many young people watching this — and even for the adults, too — they could probably use the reminder that I was taught: if you don't have anything nice to say, just don't say it." Brown added, "There should be no space in this world for bullying, and I'm not going to tolerate it, and neither should any of you.
The 14-year-old actor said, "If you need a reminder of how worthy you are, and to rise above the hate, message me on Instagram." If anyone knows how hard it is to be the victim of bullying, it's definitely Brown. Recently, she deactivated her Twitter account and disabled comments on her Instagram page because of people trying to "take her down," according to The Wrap.
A hashtag #TakeDownMillieBobbyBrown, which had originally appeared in November and recently resurfaced, was taking images from her social media accounts and then Photoshopping them to attribute homophobic, Islamaphobic, and other bigoted quotes and actions to her.
In reality, Brown is a supporter of LGBTQ rights, as reported by Vanity Fair, and even has a secondary, verified Twitter account dedicated to preventing cyber bullying. Still, the bullying was too much for the teen to handle. It's apparently hard for some people to remember that despite her fame, she's still a kid.
This is not the first time Brown has been outspoken about bullying in her life. She told The Wrap last year that she wanted to give kids a safe space from bullies by starting her secondary Twitter account. "I was seven when I was bullied by a boy. No hard feelings, I got over it, but I did have to move schools because it was very hard, and I felt like I couldn't talk to anyone," she said. The star added, "I would talk to my parents of course, but it's annoying because you don't want to leave a school where you have your best friends at."
Being in the spotlight makes her an easy target for the internet trolls. She said in the same interview with The Wrap that celebs really can't win.
You pick a flower up, and they'll be like, 'You did that wrong, you did this wrong.' We need to stop bullying and cyber bullying. It's ruining people's lives. And I think that creating the account was for me and a lot of other people.
Using that Twitter account, she responds to fans comments about bullying and lets them share their stories, which is a nice way to connect. Brown also tweets advice about thinking before you speak and making sure that you're kind to people. Brown is the second star to recently disable her social media because of bullying. Because of people bullying them for her appearance Star Wars: The Last Jedi star Kelly Marie Tran deleted all of her Instagram posts, as reported by E! News. Her co-star Daisy Ridley deactivated her account altogether because of trolls harassing her for her political views (Ridley had posted messages about gun violence prevention.)
It's sad that successful young women like Brown are forced off of social media by bullies, whether they're famous or not. But they can't be silenced, as Brown proves time and time again.