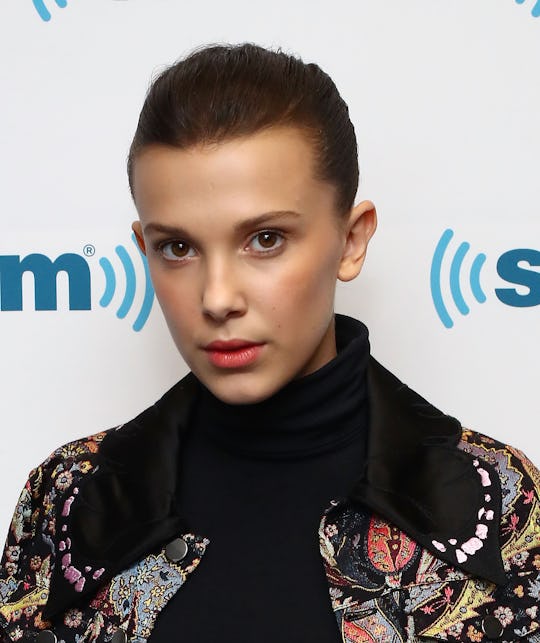 Astrid Stawiarz/Getty
You Guys, Millie Bobby Brown Looks Fierce AF At The Golden Globes
Some people watch the Golden Globes to see who wins the major awards and maybe predict what will happen at the Oscars. I watch the Golden Globes to see what everybody's wearing. And Millie Bobby Brown's Golden Globes dress proves once and for all that she is the newest fashion icon of our generation. Which hardly seems fair, because she's not even old enough to vote yet. But there's no denying that she is always one of the best dressed people on the red carpet. And clearly the internet agreed.
Brown first showed the world that she was an incredibly talented actor — even at such a young age — when she played Eleven in the first season of Stranger Things. As soon as the show started making waves during awards season, it became equally clear that Brown was also an incredibly talented dresser. It seems odd to be envying a 13-year-old child's wardrobe, but here we are. I would pay Brown to come to my closet and tell me what to wear and what to get rid of. After all, she looks more and more stylish every time she appears at one of these things. Clearly, girlfriend knows her way around a closet.
At the last year's Golden Globes, for example, Brown wore a silver sequined Jenny Packham dress reaching just below her knees that prompted Vogue to call her one of the chicest attendees at the Awards, as well as one of the youngest. And who could forget one of my personal favorite dresses of hers, the white ballerina tulle gown that she wore to the Emmys in September 2017. But she first started turning heads on the red carpet back in 2016, when she wore that gorgeous sheer Valentino gown embroidered with birds. Basically, Brown is a style star already.
Predictably, she killed it in the style department once again for the 2018 Golden Globe awards. This little lady swooped in in this unbelievable little silk dress with puffy ruffled sleeves while serving some incredible face, and I am going to need a while to recover from this. Brown is 13 years old. I feel pretty safe in saying that when most women were 13 years old, they were still trying to figure out bras and how to get away with eating popcorn without getting it in your braces. I certainly did not know how to wear couture or be a Queen at age 13.
Perhaps it has something to do with being an actress. I do remember back in the day when Kiernan Shipka was the wunderkind fashion icon of the decade, back when she played Don Draper's adorable daughter on Mad Men. Now that Shipka is older, it looks like Brown has taken up the mantle of teaching grown women how to dress. I would definitely take all of my style cues from this one.
Perhaps surprisingly, Brown did not walk the carpet with her costars on Stranger Things — Gaten Matarazzo, Finn Wolfhard, Caleb McLaughlin, and Noah Schnapp. Brown often walks the carpet solo, while the other Stranger Things kids go as a group. I'm not even that mad at this because honestly, how could those other kids shine when standing next to this one? Just kidding, those kids are all incredibly charming with or without Brown.
Luckily, Brown wasn't left completely alone on the red carpet. She was captured sharing a moment with her costar David Harbour who plays her adoptive dad on Stranger Things. And while everybody loves the dynamic of the kids, it was this relationship that really tugged at the heartstrings in Season 2. So I'll take it.
Check out Romper's new video series, Romper's Doula Diaries:
Watch full episodes of Romper's Doula Diaries on Facebook Watch.