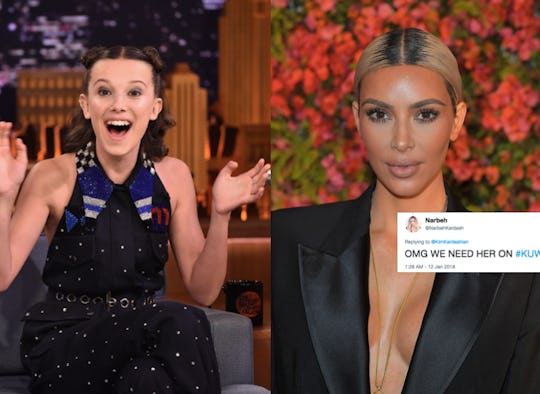 Theo Wargo/Getty Images Entertainment/Getty Images,Charley Gallay/Getty Images Entertainment/Getty Images
Millie Bobby Brown May Make An Appearance On 'KUWTK' If Fans Have Anything To Say About It
It looks like Millie Bobby Brown, also known as Eleven on Stranger Things or the 13-year-old rapidly taking over Hollywood with her charm, has a TV crush of her own: on Thursday, Millie Bobby Brown fangirled over the Kardashians on Twitter, and it was the most pure thing on social media that day. Of course, the internet is now calling for her to be on Keeping Up with the Kardashians, the Kardashians seem into the idea, and the world cannot handle the mutual adoration between these ladies.
It started when, on Thursday, Brown — possibly in the middle of some serious Keeping Up with the Kardashians watching — tweeted out: "Honestly, all i want is for Kourtney K to shake my salad." (If you're as dedicated a KUWTK fan as Brown is, you'll know that the Kardashian sisters all have some serious salad shaking chops.)
Praise from Eleven doesn't usually go unnoticed, and it totally didn't this time, either. Kourtney Kardashian posted a screenshot of Brown's tweet, with writing over top that read, "Anytime." Soon after, sister Kim Kardashian jumped in, as well, quote-tweeting Brown's salad request and writing, "I can arrange this!"
Brown promptly responded:
KIM! Grab your calendar it's happenin. My dream has come true.
Needless to say, fans were so down with this semi-planning on Twitter, and their reactions made it clear that Brown needs to be on Keeping Up with the Kardashians immediately.
If a Kardashian-Brown meet-up happened on Keeping Up with the Kardashians, it would be a long time coming, considering how long the world has known about Brown's love for all things Kardashian. "I love them, I really do," Brown told Jimmy Fallon during an interview back in November, according to E! News. She continued:
I'm obsessed with them. I follow them on social media. I think that they are just like really great. They're so entertaining. They have their own like language. Like instead of saying I swear they're like "Bible!" And then they're like, "Okurrr!" It means like OK. It's like, "Okurrr!"
The Kardashians, of course, responded with nothing but mutual love, with matriarch Kris Jenner tweeting, "I love you ... you are so adorable! We are huge fans of yours also!!" Kim and Khloé also jumped in with praise for the British actress, and Brown tweeted that Keeping Up with the Kardashians was the only show she could watch while filming Stranger Things.
Watching the Kardashians and Brown shower each other with compliments and get just as excited about each other's recognition was a beautiful, beautiful thing several months ago, and that hasn't changed now.
Clearly, it is high time for a Millie Bobby Brown special on Keeping Up with the Kardashians. I bet something like that would even eclipse Khloé's pregnancy announcement episode, which should be on its way any day now. It could probably rake in more views than Kylie Jenner's eventual (possible? hopefully?) pregnancy reveal episode. (Or baby reveal episode, perhaps? We're all pretty in the dark on this one, to be honest.)
With season three of Stranger Things not expected until the end of 2018 or later, fans are going to need some more regular Brown in their life, and a visit to Keeping Up with the Kardashians seems like the perfect opportunity to make this happen. The Kardashians are totally down with the idea, Brown is clearly into it, and everyone on the internet is ecstatic about a possible crossover — so please make it happen, Kim. Oh, and if Gaten Matarazzo could also make an appearance, that would be great, please and thanks.
Check out Romper's new video series, Romper's Doula Diaries:
Watch full episodes of Romper's Doula Diaries on Facebook Watch.