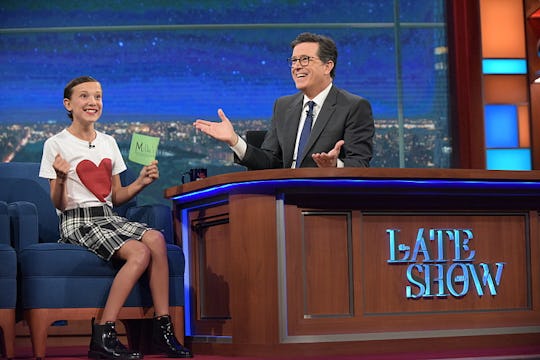 CBS
Millie Bobby Brown's 'Late Show' Appearance & These Other Moments Prove She's The Best
Millie Bobby Brown took the world by storm with her breakout role in this summer's Netflix smash hit Stranger Things, an early '80s horror-thriller pastiche about a young boy named Will who mysteriously vanishes from his small town. Brown played Eleven, the enigmatic, near-mute telekinetic little girl at the heart of the mystery. Viewers loved all of the extremely talented kids in the cast but were particularly captivated by Brown's subtle and nuanced portrayal of Eleven, establishing the 12-year-old actress as one to watch. Millie Bobby Brown's Late Show appearance this week and several other recent moments prove that she's just as awesome as her badass character, Eleven.
Brown appeared on Tuesday's episode of The Late Show With Stephen Colbert, discussing her seemingly overnight ascent in becoming a beloved pop culture icon. As usually, Brown was humble was clearly very, very excited to be speaking with the late night host (honestly, who wouldn't be?). The two chatted about Brown's fears, how she prepared for her early '80s role, and her new "squad" (currently composed of just Brown and Sia's muse Maddie Ziegler) – and Brown even auditioned Colbert for a squad position.
The entire interview was absolute gold, but a few select moments from it (plus an assortment of other recent amazing Millie Bobby B moments) prove that the young actress is the best.
Spoofing Eleven's Powers With Stephen Colbert
In conjunction with her appearance on the Late Show, the host and young actress did a loose (very, very loose) reenactment of one of Eleven's iconic scenes from Season 1 of Stranger Things.
Colbert, with hilarious wig and eyebrow enhancements, took on the role of Eleven's "Papa," the sketchy Dr. Brenner. Brown proved that she's a master at dead pan humor by not busting out laughing or even smiling throughout the skit, when this version of Eleven is using her powers to heat up burritos and make soda cans dance.
Admitting To Colbert That She's Scared Of Bungalows...
Like I said, the whole interview segment is amazing – Brown is beyond charming and likable, as per usual, and you can clearly tell that Colbert is totally charmed by the young actress. But easily the best part of the interview is when Brown admits that she's afraid of sharks, the dark – and bungalows.
... And That She Literally Had No Idea What A Record Player Was
She's now totally enamored with vinyls and has no use for iPods. She's an old-school kinda gal!
When She Said Beyonce's Name And Made This Gesture
Same, girl. Same.
Rapping Nicki Minaj's "Monster" Verse
Joining her equally charming and talented Stranger Things co-stars on The Tonight Show, Brown shocked and impressed everyone by flawlessly rapping Nicki Minaj's verse from Kanye West's "Monster" – while in a silly string fight. Bow. Down.
Sharing The Head-Shaving Video
For the role of Eleven, Brown now-infamously had to actually shave her long hair off, as per the directors – who, apparently, did not tell her until after she got the role that it required head shaving. Brown was an absolute trooper about it, proving she's so, so serious about her craft and totally unfazed by cutting off her long locks.
Being Informally "Adopted" By Aaron Paul And His Wife Lauren
The Breaking Bad actor and his wife, like all of us, totally fell in love with Brown when they saw her in Stranger Things. Paul loved the show and the young actress so much that he even interviewed her for Elle Magazine. You know you're cool when the coolest dude in Hollywood thinks you're cool.
Sharing A Video Of Herself BOXING Like A Champ
She boxes, you guys. Like actually, in a ring, with boxing gear, boxes. Coolest little girl ever.
We still have a way to go until we get to see Millie Bobby Brown and the rest of the amazing Stranger Things cast back on our screens again for Season 2 – but in the mean time, I really hope they all keep up the press tour of awesomeness.