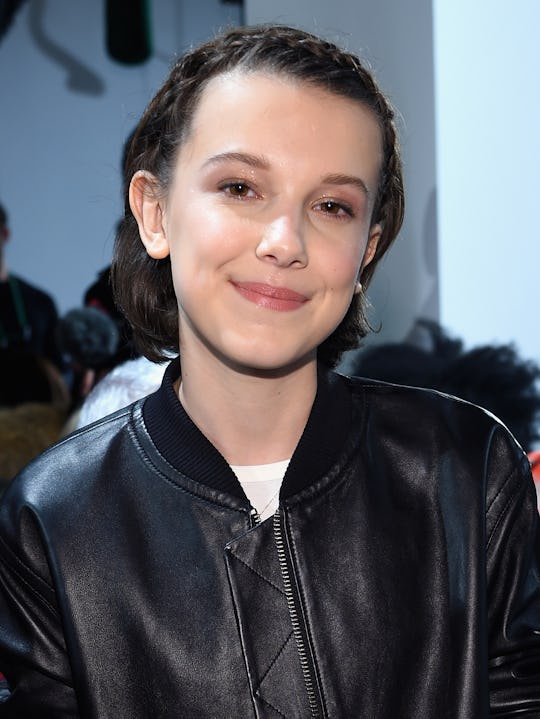 Dimitrios Kambouris/Getty Images Entertainment/Getty Images
Millie Bobby Brown's MTV Awards Speech Is All Sorts Of Inspiring
It's safe to say that anyone who watched and loved Netflix's surprise hit Stranger Things last summer (aka, pretty much everyone ever, including most celebrities) absolutely adores Millie Bobby Brown. The young actress captivated audiences as the enigmatic, badass Eleven, the little telekinetic girl with a mysterious past, on the streaming series. Brown was up against stiff competition at the MTV Movie & TV Awards in the Best Actor in a Show category, but she walked away with the gilded popcorn prize. As expected, Millie Bobby Brown's MTV Movie and TV Awards speech was heartwarming and inspirational.
Brown, who has enjoyed a major and swift rise to stardom after her star turn in Stranger Things, was visibly emotional when she accepted the award. Wearing a seriously stylish all-white outfit (complete with an ACLU ribbon and some amazing white cowboy boots), the young actress took the stage with tears in her eyes as her crew of co-stars and BFFs looked up at her proudly. Seriously, are those kids #squadgoals or what?
After taking a moment to give the standard round of thanks to the cast and crew of the show, to Netflix for taking a chance on the immediately-iconic series, to her PR, agency, and management teams, and to her parents and sister for their support, Brown turned her attention to thanking the creators of Stranger Things for giving life to the character Eleven, who was easily one of the best and most memorable pop culture figures of 2016.
Who am I kidding? She's one of the best and most memorable pop culture figures of the past 25 years.
Brown finished out her speech by thanking the Duffer brothers directly for creating "a badass, female, iconic character" that Brown had the honor to play. The young actress beat out several older actors, both male and female — this is the first year that the awards show has decided to combine genders into one gender-neutral category for each award — including Atlanta's Donald Glover, Game of Thrones' Emilia Clarke, Jane the Virgin's Gina Rodriguez, and This Is Us' Mandy Moore.
Eleven appeared to die at the end of Season 1 of Stranger Things, but Brown and the show creators have confirmed that she will be back for Season 2. "I want people to know that she's back and she's a major part of the season and not know how or why," series co-creator Matt Duffer told Entertainment Weekly earlier this year. "We do get into her story and backstory. We learn about where she came from and how she came into the world and the program that resulted in her."
All I can say is, thank god we're going to get more Eleven! Everybody can always use more of any strong, female character, and the Eggo-loving little girl is one of my favorites.