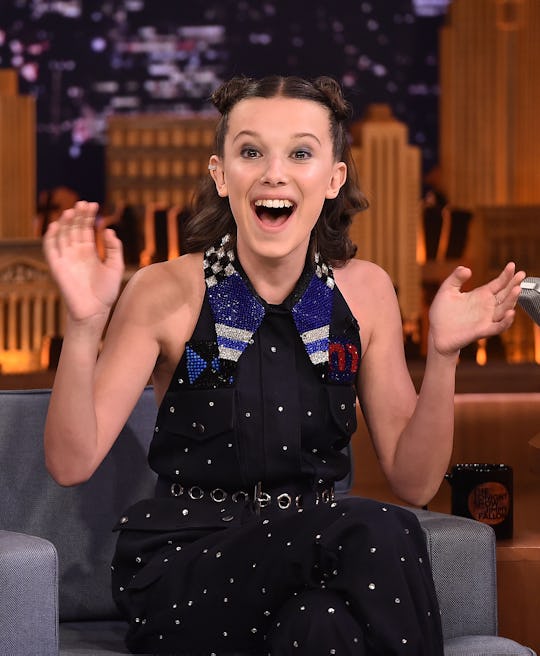 Theo Wargo/Getty Images Entertainment/Getty Images
Millie Bobby Brown's SAG Awards Dress Will Give You Serious Fashion Envy
Stranger Things led the pack of TV nominations at the 24th Annual Screen Actors Guild Awards, along with GLOW and Big Little Lies, with four nods apiece. The breakout sci-fi series from Netflix won Outstanding Performance by an Ensemble in a Drama Series last year, with a memorable speech by David Harbour, and this year, Millie Bobby Brown earned a nomination for Outstanding Performance by a Female Actor in a Drama Series. The always well-dressed starlet gets lots of attention for her red carpet looks and Millie Bobby Brown's SAG Awards dress was no exception.
Every red carpet, fashion editorial spread, and paparazzi-strewn event Brown participates in seems to stir up a great deal of debate around the supposed propriety of how we talk about a 13-year-old actress's looks. But it's clear that she loves playing around with her personal style, has a prodigious awareness of the camera, and seems to be handling the onslaught of attention with grace. It's fair to critique the way we talk about her, but her personal style choices are hers. She's allowed to present herself however she wants to, and she should definitely be allowed to flex, hone, and experiment with her own skills. She even deserves the space to make the odd fashion mistake, should there ever be a misstep.
Perhaps in response to the great debate over how "adult" and "grown-up" she looks, Brown went with a super casual and youthful look for the SAG Awards. Sporting beribboned space buns, a pink sequined high-low dress, and white Converse, Brown looked refreshingly chill and proved that she pulls off fun tween style just as skillfully as chic high fashion. In her E! red carpet interview with Giuliana Rancic, she admitted that she wore sneakers just so she could dance later — win or lose. Rancic asked if she was planning on celebrating by partying afterward, and Brown politely reminded the red carpet host that she's 13, so can't really party party.
"It's fun to go to the parties. I love to dance. That's why I brought these," she said of her enviously comfy-looking shoes.
But she admitted that the plan for the night was probably going to be more low-key, even though she's a solo nominee for the first time.
"I'll probably go back to my hotel room and eat pizza and watch a movie with my family," she said.
She posted a reaction video following SAG Award nomination announcements in which she specifically shouted out David Harbour for bringing last season's excellent work out of her. (Eleven was relegated mostly to interacting with Hopper in Season 2, so the pair became very close scene partners.)
"Thank you to everyone who appreciates the show, who genuinely sits there and enjoys every episode and every scene," she said. "It's really cool to just see my fans loving it."
Brown's Stranger Things compatriots killed it on the red carpet, too, just in case they all get to traipse up on stage together for a second time to accept the award for Outstanding Ensemble. Newcomer Sadie Sink, who plays Max, went with a more formal, high-necked white beaded gown. Caleb McLaughlin, AKA Lucas, wore plaid cigarette pants and a white jacket. Noah Schnapp, who plays Will, sported a forest green velvet tux. Natalia Dyer, who plays Nancy, pulled off a gorgeous, astrology-inspired Dior gown. And Dacre Montgomery, who plays this season's new villain Billy, made his red carpet debut with a mustache and a chocolate brown tux. Needless to say, they'll make a great-looking bunch in the group photos.
Check out Romper's new video series, Romper's Doula Diaries:
Watch full episodes of Romper's Doula Diaries on Facebook Watch.