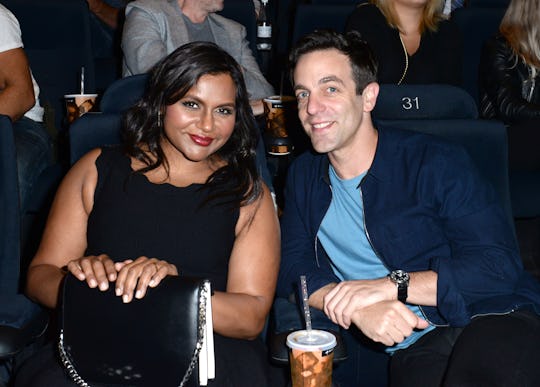 Vivien Killilea/Getty Images Entertainment/Getty Images
Mindy Kaling & BJ Novak Reunited For The Oscars & OMG, Are They Back Together?
There are some celeb couples you just can't help rooting for, no matter how on-again, off-again they might be. Like Mindy Kaling and B.J. Novak, who reunited for the Oscars tonight (much to the thrill delight of fans everywhere).
If you're a Mindy Kaling follower on Instagram, you might have already seen the story she posted featuring the new-ish mom and her former Office co-star (and boyfriend), B.J. Novak, en route to the Oscars. At least, Novak is pretty sure it was the Oscars? In one of the most entertaining moments of the story, Kaling had to set him straight about which awards ceremony they were actually attending.
"Why would we be going to the Grammys?"
"Why am *I* going to the Oscars?"
This chemistry is what makes everybody love these two together so much! Onscreen and off. They're just adorable when they're side-by-side, whether they're all glammed up and headed to the Academy Awards or wearing their Ryan and Kelly costumes, trading hilarious barbs.
And it wasn't just the ride to the Oscars that got people buzzing... Kaling and Novak also went to the Vanity Fair Oscars party together... and, well, you can imagine the looks those two must have gotten when they made their entrance.
It was truly an emotional moment for so many. People had very, very strong feelings, like...
It's what everybody's thinking, but nobody except @LoveAndyC will say it. (Of course it's not anyone's business and Mindy is certainly not obligated to reveal the identity of her baby's father. It's just so much fun to speculate. And to imagine Mindy and BJ and the baby having cute little mornings together in a sunny breakfast nook, everybody wearing adorable pajamas. Anyway.)
Oh, there's that chemistry again!! Those two. Comedy gold. Seriously, even if they had a fraction of that magic between them in real life they'd be one of the most successful couples ever.
Unpopular opinion, but I get it. Yes, Jim and Pam were the romantic leading roles of The Office, and they did a fine job of it, too, but sometimes they were just a little bit too sweet. Not so for Ryan and Kelly, who had more than enough snarky sour to offset their more sentimental moments. (Which, did they actually have any? There was the ketchup thing above.)
Obviously, it was all very exciting. Even more than the ceremony that followed, some people felt.
Luckily, there were *some* updates to be found in Kaling's stories later. After the Vanity Fair bash, the party of two went out for a bite (the fanciest events never have enough food! They were probably starving.). Kaling ordered herself a chicken burger and fries for dinner, while "Novak made the rookie mistake of ordering broccoli of some sort." Proof Kaling loves Novak? She apparently ended up sharing her chicken burger with him, because of course it probably looked way better than his broccoli-based meal. The pair even had a little banter-y moment for the benefit of the camera, Mashable continued, with B.J. saying "I just want to say no one else at this party is on their phones," to the camera (to which Mindy clapped back, "Yeah, no one's on their phones but I am this person."). Oh, snap!!
Maybe it really is true: Ryan & Kelly > Jim & Pam.
I mean, B.J. & Mindy.