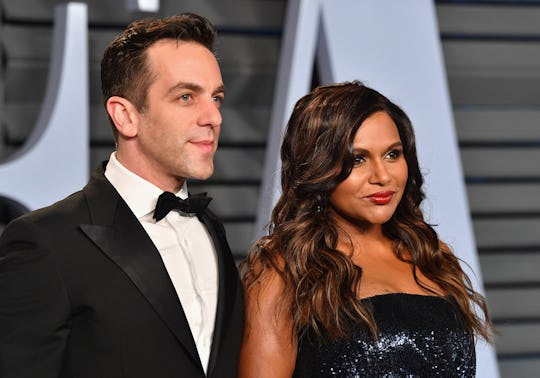 Dia Dipasupil/Getty Images Entertainment/Getty Images
Mindy Kaling & B.J. Novak Are Together At The Oscars & 'The Office' Fans Are Losing It
Most people probably think of the red carpet and the golden statuettes when they hear "Academy Awards," but here's your friendly reminder that for some actors, the best part is the parties that take place later on. At least one pair got an early jump on the festivities on Sunday night, when Mindy Kaling brought B.J. Novak to an Oscars after-party. Kaling provided a tip-off in her Instagram. "I'm headed out for a night of fun with my best friend," Kaling said in the short video, before turning the camera on Novak. "What's up, Snapshot?" the Office alum called out enthusiastically. Kaling reacted with faux exasperation, shaking her head and apologizing to her followers. Twitter promptly erupted in love-heart emojis because, well, duh.
Kaling is co-starring in A Wrinkle in Time, set to premiere next week, and she brought Novak to the Vanity Fair party, just as she did after last year's Oscars. She's been keeping a low profile since giving birth to her daughter, Katherine, in December. Her return to the public eye came just over a week ago, when she joined costars Oprah Winfrey and Reese Witherspoon for a preview screening of their film at Disneyland, according to People. There isn't enough caffeine and Spanx in the world that could get me to an Oscar party less than three months postpartum, so hats off to her.
Kaling is raising her daughter on her own, and she's fortunate to have the financial resources and emotional support system (we assume because, hey, she might be a celebrity but we don't know her life) to make it work. Last week, she revealed the welcome gift little Katherine received from Winfrey, and it's exactly as extravagant as you'd imagine. "I got a call from my assistant," Kaling told USA Today. "She said, 'Oprah's assistant contacted me, she'd like to drop off a present." Kaling said she decided to skip work that day when she heard how it would be delivered: "Two men are going to be coming to your house, they said, with a U-Haul truck."
The truck, as it turned out, contained an ornate hand-carved bookcase filled with classic works of children's literature, each of which bore the the inscription, "'Katherine's Book Club." Winfrey commissioned the bookcase to resemble the treehouse Kaling's character resides in for A Wrinkle in Time, and Kaling said that it "looks like a beautiful castle" and is "prettier than any professional dollhouse." No, she hasn't showed it off yet, and yes, I am very annoyed about that.
Kaling and Novak met when they were both 24 years old, working as writers and actors on The Office. According to Time, their characters, Kelly and Ryan, started their on-again, off-again relationship before the couple began dating in real life, and though they're no longer romantically linked, they've remained the best of friends for the past decade and a half. They continue to drive fans crazy with their adorably flirty tweets, like when Novak called Kaling "the girl of my memes," or any time they called each other their "soup snake," a reference to a scene from The Office in which Michael Scott (Steve Carell) can't decode his own handwriting to make out the phrase "soul mate."
The pair also scored a book deal together in 2015, but the details are scarce. One thing we do know: "It won't be a tell-all about our relationship," Kaling told Vanity Fair. "We don't know all that much about it. We are in the early stages and we just did a work session on it. I think it's going to be great and funny, though." Kaling has previously published two memoirs, Is Everyone Hanging Out Without Me? (And Other Concerns) and Why Not Me?, which I can, personally, confirm are hilarious. The question is, with a new movie to promote and a new baby to raise, when will she find time to finish it?
Enjoy that party, you two, but please hurry back to your laptops ASAP.
Check out Romper's new video series, Bearing The Motherload, where disagreeing parents from different sides of an issue sit down with a mediator and talk about how to support (and not judge) each other's parenting perspectives. New episodes air Mondays on Facebook.