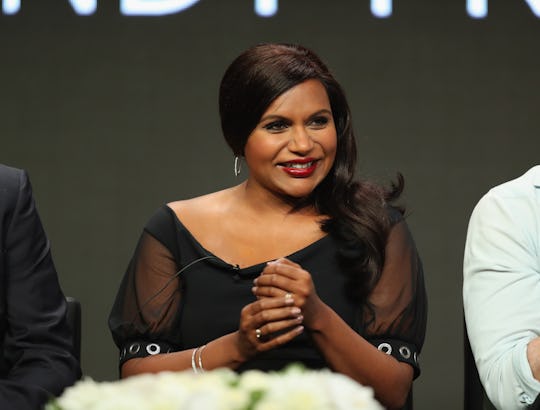 Joe Scarnici/Getty Images Entertainment/Getty Images
Mindy Kaling Confirms Her Baby's Sex, & OMG, Yes
Mindy Kaling is pretty much the greatest, so when it was revealed earlier this summer that the actress was pregnant, fans naturally rejoiced. Kaling has mostly kept quiet about her pregnancy so far, but during an appearance on the Ellen DeGeneres Show Friday, Kaling revealed an exciting detail about her baby-to-be. Mindy Kaling confirmed her baby's sex on Ellen, and shared that she is having a girl.
Although some parents choose to opt out of learning their baby's sex during pregnancy, preferring instead to have it be a delivery surprise, Kaling told DeGeneres that that definitely wasn't her style. According to People, Kaling said that she wanted to know what she was having "way early," and added, "I am not waiting. I'm having a girl." And although she shared some funny details about her pregnancy with the talk show host — like the fact that she has been craving jelly doughnuts — she also explained to DeGeneres that her pregnancy had occurred at a pretty meaningful time in her life. Reflecting back on the fact that her show, The Mindy Project, was coming to an end, Kaling said that there was one specific reason why it felt so special to find out that she was actually having a girl.
Kaling told Ellen,
When I started the show ... I literally found out that the show got green-lit the same day that my mother passed away. And my mother, who was an OB-GYN — [and] I play an OB-GYN on the show — she passed away within the same hour that I found out that the show had been green-lit. So that was such a strange thing. And then now the show's ending when I found out that I was pregnant with my own daughter ... it felt like the show kind of helped me and trained me to grow up and become a mom and it's really meaningful to me.
Although Kaling seemed comfortable opening up to Ellen about her pregnancy, she did admit that it hadn't exactly been her decision to reveal the news that she was expecting to the world. In July, Kaling's A Wrinkle In Time castmate Oprah Winfrey actually spilled the beans to People, and told the magazine,
My mouth dropped ... She said, 'Oh, Oprah, I don't think you know. I'm five months pregnant.' And I said, 'WHAAAAT?!' That was it, and we just kept smiling. And then I said to [Reese Witherspoon], 'Did you know?' and she said, 'I just found out, too.' And then I said to [Ava DuVernay], 'Did you know?' And she said, 'I just found out.'
Luckily for Oprah though, Kaling told DeGeneres that she didn't have any hard feelings about her confirming her pregnancy news. She said,
If anyone is going to announce big news about your private life, Oprah Winfrey is the person. You can't complain that much about it. And you also can't be like, 'Hey, Oprah, zip it' — because she's almost like a religious figure. So if there's one person I have to tell my daughter about that revealed her existence to the world, Oprah is pretty good.
With the final episode of The Mindy Project behind her, Kaling is now focusing on preparing for motherhood. And while she admitted to TODAY in September that she was feeling "so anxious" about the prospect, it also sounds like there's a lot she learned from her own mother that will help influence the way she'll raise her daughter. Kaling said,
My mom was incredibly fierce and so devoted to us, just loved us and really wanted us to be happy no matter what we did. My career choice was not something that she was familiar with and she was just so supportive of that. And if I could give that to my child, just that open-mindedness, I'd be so happy.
It's not particularly surprising to hear that Kaling is nervous about her daughter's arrival — becoming a parent is a huge life change you can't really ever totally anticipate — but it also sounds like she's given a lot of thought to the things that really matter. And that will definitely help her be a really awesome mom to her soon-to-arrive baby girl, who, let's face it, is probably going to have the coolest mom around.
Watch Romper's new video series, Romper's Doula Diaries:
Check out the entire Romper's Doula Diaries series and other videos on Facebook and the Bustle app across Apple TV, Roku, and Amazon Fire TV.