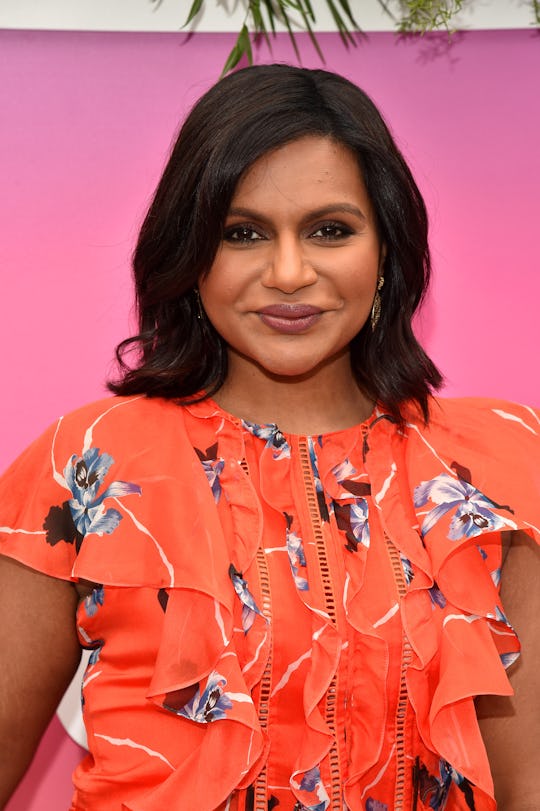 Bryan Bedder/Getty Images Entertainment/Getty Images
Mindy Kaling Feminist Quotes That Prove She Has One Lucky Kid Coming
Monday turned into a pretty damn good day for Mindy Kaling Fans. Those of us who have followed Mindy Kaling's career from speed-dating Amy in The 40-Year-Old Virgin, to the chattiest (and most dramatic) customer support employee Kelly Kapoor in The Office, to a truly heroic role playing the titular lead in The Mindy Project, know that we will support Mindy Kaling through all life's adventures. So, on Monday, the news was released that Mindy Kaling is pregnant, and naturally, M.K.F. freaked out. While there is no doubt that she will be an incredible mother, these Mindy Kaling feminist quotes prove that she will have one lucky kid.
Kaling has always been a beacon of feminist delight. Whether she is speaking to your inner IDGAF-spirit or your HBIC queen role through the career she has built for herself in a rather male-dominated industry, Mindy Kaling knows how to empower others, and there is no doubt that those qualities will make her a spectacular mother. Through her shows, books, and press appearances, Kaling has spouted off a few really inspirational quotes throughout the years. So, let's just get right into it and look at how some of Kaling's former quotes will undoubtedly light the path for the next generation.
She Empowers Women To Be Bosses
In a Q&A with Lena Dunham for Rookie: Yearbook Two, Kaling, a boss, told Dunham, another boss, that she loves when women don't ask permission for what they want people to do. "I love women who don't ask, 'Is that OK?' after everything they say. I love when women are courageous in the face of unthinkable circumstances..." she said in 2013.
She Pushes Women To Create Their Own Path
At a Made With Code event in 2014, Kaling said, "If you don't see a clear path for what you want, sometimes you have to make it yourself." Pretty inspo, right?
She Knows The Importance Of Feminism
In 2013, Kaling told Refinery29, "Here's my feeling: For everyone, men and women, it's important to be a feminist. It's important to have female characters. It's wonderful for women to mentor other women, but it's just as important for women to mentor men and vice-versa."
She Refuses To Be An Outsider In The Industry
On the topic of being considered a "pioneer" in the industry, Kaling told GirlTalkHQ in 2014 that she understood why that was part of the conversation, but didn't fall into the trap. She said, "... I sort of refuse to be an outsider, even though I know that I very much look like one to a lot of people, and I refuse to view myself in such terms."
She Encourages You To Ask *This* Crucial Question
I mean, this epic tweet essentially went on to be her second book.
Thank you Mindy Kaling for being a source of major inspiration to the millennial generation. There's no doubt that Kaling's kid will benefit from having such an empowering and feminist mother by their side.