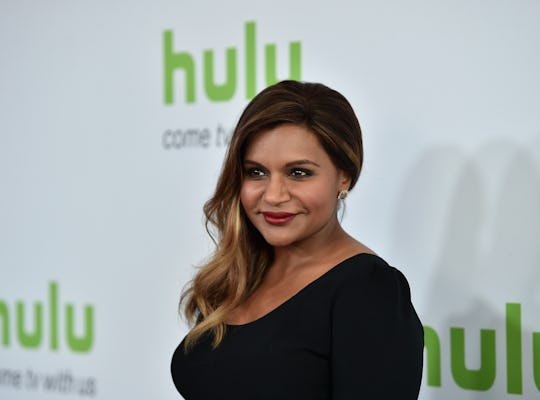 Alberto E. Rodriguez/Getty Images Entertainment/Getty Images
Here's Why Mindy Kaling Hid Her Pregnancy While Filming 'Ocean's 8'
When someone gets pregnant, they make the decision to announce their pregnancy when they do for so many different reasons. A lot of factors go in to the decision to let everyone know — from bosses, to friends, to family members — that they're expecting, and people have to respect that. You can't force someone to talk about their pregnancy when they're not ready. Actor, writer, and director Mindy Kaling kept much of her pregnancy this past summer a secret, so people shouldn't be too surprised that Kaling hid her pregnancy while filming Ocean's 8, and her reasoning behind why is something all moms will understand.
Kaling is a part of the ensemble of bad ass women cast in Ocean's 8, a film about a group of women who use their unique skills to perform a heist, according to NME. Kaling somehow got away with hiding her pregnancy from the cast in real life — at least, that is what she told the New York Times on Friday. Even though Kaling's Ocean's 8 co-star, Sandra Bullock, told the New York Times that everyone in the cast became a "surrogate parent/best friend/therapist," to one another they failed at being detectives.
When Kaling first joined the cast, according to the New York Times, she was two weeks pregnant. And one night, the cast went out to dinner where alcohol was present — but Kaling (of course) couldn't drink. Kaling told the New York Times that she had kept her pregnancy a secret from her co-workers at the time because she was "superstitious" about it.
Instead of telling her cast members that she was pregnant, Kaling had to come up with a cover — so she told them she was on "heavy antibiotics," according to the New York Times. So, so sly.
While people can choose to announce their pregnancy when they feel is best for them, most expecting mothers wait until the end of their first trimester, or 13 weeks, until sharing the news, according to Healthline. That's because the first trimester comes with an increased risk of miscarriage, according to the Bump.
Because Kaling was only two weeks pregnant at the time, her superstitions were pretty valid. Bullock agreed that Kaling was right in keeping her pregnancy a secret, telling the New York Times:
It's not superstitious! You just don't mention it until you're the first trimester in. Paulson and I kept trying to get you to order a cocktail, and you're like "I'm on strict antibiotics." And we're like "What kind of antibiotic is that?"
"I had to spin a web of lies," Kaling told the New York Times. "I just wish I had been able to actually drink with them." No matter what lies she had to tell, Kaling was right for doing it. The Centers for Disease Control and Prevention strictly advises against drinking alcohol while pregnant. Especially since, according to the CDC, there is "no known safe amount of alcohol use during pregnancy or while trying to get pregnant."
But this wasn't the only instance where Kaling would have to lie about her pregnancy or keep it a secret from others. Kaling kept her entire pregnancy hidden while filming the last season of her show, The Mindy Project, according to InStyle, with the help of the show's wardrobe department and cinematographer. But even after Kaling gave birth to her daughter, Katherine, last December, according to E! News, she is still continuing with her secrecy streak, choosing to keep that part of her life pretty private. In March, Kaling told TODAY that she would keep her daughter hidden from the public until she is a little bit older. "I'm far too fragile," Kaling said. "She'll be big enough and people will see her."
If you've ever doubted Kaling's skills as an actor, the fact that she was able to keep her pregnancy a secret from Academy Award winners (like Bullock) proves she's got some chops.