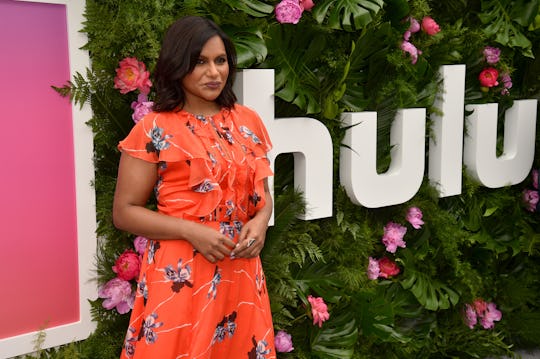 Bryan Bedder/Getty Images Entertainment/Getty Images
Mindy Kaling Is Pregnant!
Start flipping out, comedy fans. According to multiple sources, goddess of hilarity Mindy Kaling is pregnant with her first child, E! News reported on Monday. That's going to be one lucky kid.
According to what sources told E! News, the baby was "an unexpected surprise," but the 38-year-old star of The Mindy Project had previously made it clear that she wanted to have kids, "maybe imminently." (Romper has reached out to Kaling's rep for comment and is awaiting a response.)
Back in 2015, Kaling told Yahoo! Style,
I think I've decided that unlike everything else in my life, I'm going to be fast and loose about kids. I'm going to not actively plan, but if it happens, it would happen.
And now, it's happening! In this case, life is imitating art. On her beloved romantic comedy-inspired sitcom, Kaling's character had a baby after an unplanned pregnancy. And if real-life Mindy handles motherhood like fictional Mindy, her fans are sure to be totally delighted and entertained.
It's a time of big change for Kaling, who got her start writing for The Office, and quickly became a fan favorite as the pop-culture obsessed chatterbox Kelly Kapoor. Now, The Mindy Project is set to air its final season on Hulu, and Kaling is starring in a buzzy movie adaptation of A Wrinkle in Time that looks so freaking good, it has made the wait between now and its March release date seem very long indeed.
And in a matter of months, if reports are true, a baby will be entering the mix. Fans are freaking out with happiness for Kaling, who has won the undying loyalty of millions for being candid and hilarious about all aspects of her life, from her unpredictable relationship with ex-boyfriend, frequent collaborator, and best friend BJ Novak to her thoughts on having kids. In Kaling's most recent book of essays, Why Not Me? Kaling talked about how, even though she was growing older and wiser, she would still occasionally wake up "at 4 AM and lie in the dark worrying about the same handful of things."
She wrote that one of the fears that kept her staring at the ceiling most frequently was: "What if my kids are really young when I die because I waited too long to have them?"
It's no wonder, then, that people are greeting word of her pregnancy with elation. This is the kind of exciting news about which Kelly Kapoor and Mindy Lahiri would immediately text all of their co-workers, complete with a billion emojis. So what are you waiting for?
Congratulations to Mindy! You're gonna be a great mom.