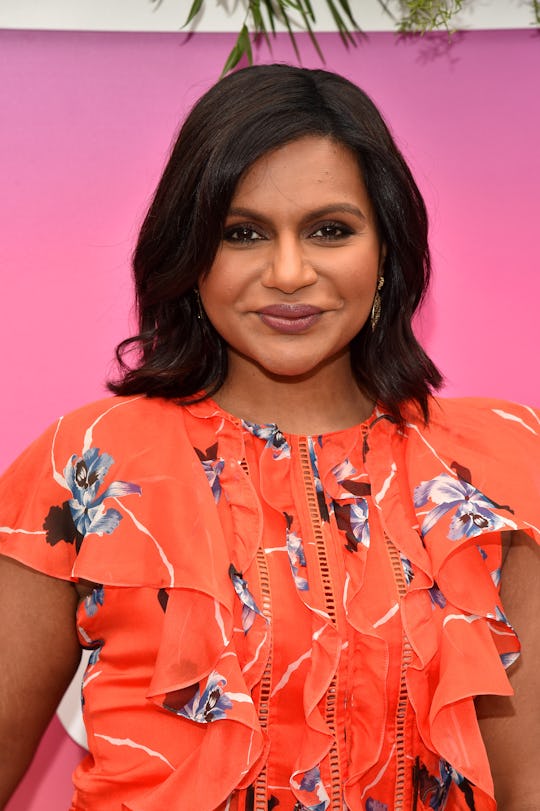 Bryan Bedder/Getty Images Entertainment/Getty Images
Mindy Kaling Posted The *Most* Adorable Photo Of Her Bump & Fans Can't Handle It
Ever since it was announced that comedian, author, and actress, Mindy Kaling was expecting her first child, fans have been clamoring over some sort of update from the star on her pregnancy. Well, that day has finally come, because Mindy Kaling posted an adorable photo of her bump and fans are quite literally freaking out.
In July, it was revealed that Kaling was pregnant with her first child, as E! News reported at the time. The 38-year-old actress confirmed the news during an interview with Oprah. And just a few months later, back in October, she even told Ellen DeGeneres that she knew the sex of her baby. "I am not waiting. I'm having a girl," she told the talk show host. But following these exciting reveals, Kaling hasn't really delved into too many others details about her pregnancy. That's why her latest Instagram post has fans everywhere exploding with excitement.
The photo posted on Thursday features Kaling in a voice recording studio, with her bump peeking out from under a blue sweater. "How I look recording Mindy Lahiri's lines. 'Exsqueeze me, sir?!?!'" she captioned the photo, along with the hashtags #themindyproject and #laterbaby.
Fans of Kaling's hit Hulu show, The Mindy Project, will be quick to recognize not just one, but two signature lines from the show: "Exsqueeze me?" and "Later, baby," which makes Kaling's post all the more sweet, as the current season is also the final season of the show.
Previously, Kaling hadn't shared any personal photos of herself showing her bump, so fans are definitely excited to see how healthy and glowing the actress is. "Literally the cutest - love the baby bump," one user commented on the photo, with another writing, "Look at that bump! So cute, congrats Mindy!"
And then there were even some fans who expressed their gratitude towards Kaling for finally sharing a photo of her bump. "Ahhhhhhh pregnant Mindy gives me hope for my future that one day in all my awkwardness I can get knocked up too," a fan commented.
In September, Kaling first openly discussed her pregnancy with Willie Geist for Sunday Today, when she got real about everything she's feeling with this new chapter of her life. Specifically, how she's learning to let go, saying:
I have a lot of control over a lot of aspects of my life, and this is one where I'm like, "Okay, it's out of my hands," which is kind of a fun feeling.
So, maybe the reason fans aren't seeing a lot of photos of Kaling's progressing pregnancy is that she's trying to take the time to relax and enjoy this special time with her growing baby. But, of course, because she's Mindy Kaling, she couldn't let the interview with Geist pass without cracking at least a few jokes:
It's so easy to criticize parenting until you're a parent, so one of the nice things about becoming a parent is that I'll be able to openly criticize other parenting because I will have a child.
Continuing her interview with Geist, Kaling revealed that she was looking to her own mother as inspiration for how to be a good parent. Kaling's mother, unfortunately, passed away of cancer in 2012, but her legacy lives on in Kaling:
My career choice was not something that she was familiar with and she was just so supportive of that. And if I could give that to my child, just that open-mindedness, I'd be so happy.
Not much else is known about Kaling's pregnancy, other than the fact that it was "an unexpected surprise," according to a source who spoke to E! News. Of course, it would be awesome to see even more bump photos from Kaling, but this one was pretty incredible and fans are clearly thrilled to have it.
Watch Romper's new video series, Romper's Doula Diaries:
Check out the entire Romper's Doula Diaries series and other videos on Facebook and the Bustle app across Apple TV, Roku, and Amazon Fire TV.