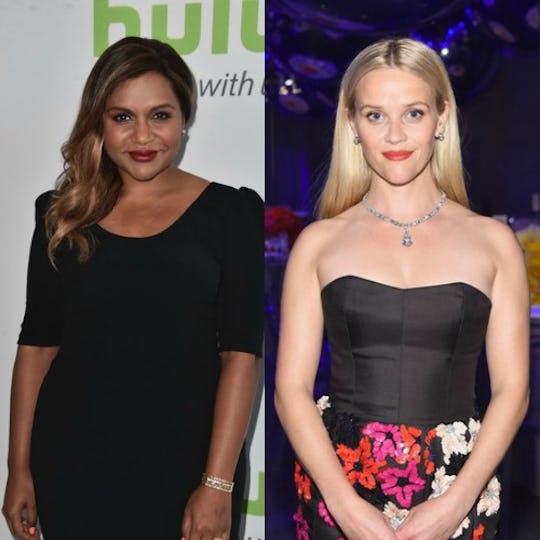 Alberto E. Rodriguez/Jamie McCarthy/Getty Images Entertainment/Getty Images
Mindy Kaling & Reese Witherspoon May Join 'A Wrinkle In Time', So Start Celebrating
There are a handful of books from our childhoods that we can immediately call to mind. For many, A Wrinkle in Time is one of those books – the young adult science-fantasy novel by Madeleine L'Engle has long been a classic in the years since its 1962 publication. Disney's first attempt to adapt the novel for the screen back in 2003 was sort of a bust, but luckily they're giving it another go – and it already seems so much more promising. The latest casting news? Mindy Kaling and Reese Witherspoon may join A Wrinkle in Time, and we're basically flipping out about it.
The first adaptation in 2003 was a TV movie (starring none other than Gregory Smith, then-teen heartthrob of Everwood fame, in one of the leading roles) that was poorly received by just about everyone – including the novel's author, Madeleine L'Engle, who noted in a Q&A with Newsweek that she "expected it to be bad, and it is." Yikes.
Unfortunately, we'll never know what L'Engle's reaction to the new adaptation would have been – the prolific author passed away in 2007, and Disney's intention to remake the novel (allowed for under their 2003 movie deal) wasn't announced until three years later, in 2010.
In the six years since that initial announcement, the movie stalled a bit. In 2014, it was announced that Frozen screenwriter and co-director Jennifer Lee would be penning the script, not based off of earlier drafts, with her own unique take on the story – "emphasiz[ing] a strong female-driven narrative and creatively approach[ing] the science fiction and world-building elements of the book." Which, basically, sounds fantastic.
Even better was the news that a director was finally attached to the project in February of this year – and that director was Ava DuVernay, who directed the award-nominated Selma. Oprah Winfrey was the first cast member attached to the project when it was announced in July that she would be playing Mrs. Which, one of the three mysterious supernatural beings who look like very old women and lead main character Meg Murry, Charles Wallace Murry, and Calvin O'Keefe on their universe-spanning adventure. Now, the trio of "Mrs." might be rounded out, thanks to this latest casting news.
Witherspoon is in talks to join the movie as Mrs. Whatsit, "a former celestial being who looks like a grandmotherly hobo," while Kaling is in talks to play "literature-quoting" Mrs. Who, according to an exclusive report from The Hollywood Reporter. The report also notes that the film is set to begin production in Los Angeles in November. In the meantime, Witherspoon's upcoming miniseries with Nicole Kidman, Big Little Lies, is on the docket, while Kaling is prepping for her role in the upcoming all-female Ocean's Eleven reboot, Ocean's Ocho.
The casting of Witherspoon and Kaling is just the cherry on top of what already seems like an incredibly promising film – between the "female-driven" script and DuVernay's directorial talents, it's hard not to get my hopes up for this movie to be amazing.